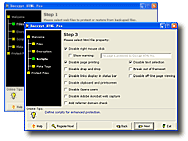 Encrypt HTML Pro v3.0 | 650 Kb
Encrypt HTML source code from unauthorized copy in just a few clicks. Encrypt HTML files, protect your web pages from unauthorized copy. Encrypt HTML source code with strong encryption algorithm. Prevent others from viewing and reusing your web page source code, include HTML source code, JavaScript, VBScript, text, links and graphics .
The protected page will have the same appearance as the original one.
Prevent spam robots from extracting email addresses from your web pages.
Prevent others from downloading your entire web site on their local hard disk.
Keep away all web content filters.
Disable right mouse click.
Disable text selection.
Disable page printing.
Disable off-line page viewing.
Disable link address in status bar.
Disable IE6 image toolbar and smart tags.
Support referrer URL check, keep your web page being visited from specific URL.
home: h**p://www.mtopsoft.com/
DL:
http://www.fileforwarding.com/index.php?mode=viewupload&id=10984