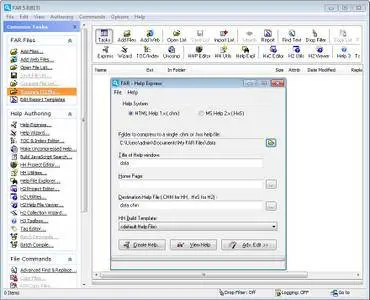 FAR HTML 5.10.0.818 | 4 Mb
FAR HTML is a collection of help authoring and file utilities. If you need to quickly manipulate HTML, XML, ASCII text files, or author help projects (HTML Help 1.x, MS Help 2.x, MS Help Viewer 1.x, Help Viewer 2.x and Uncompressed Web Help) then FAR will save you lots of time and money. You can safely use FAR HTML and MS Workshop/SDK side by side. FAR also works in batch (unattended) mode.
Features
FAR HTML is a toolbox full of various authoring, file and HTML utilities. Version 5.x now fully supports Unicode
Help Authoring:
HTML Help 1.x (.chm help files).
MS Help 2.x (.HxS help files for Visual Studio 2002/2003/2005/2008 help).
MS Help Viewer 1.x/2.x (.mshc help files for Visual Studio 10/11 help).
Web Help (Uncompressed Help) - Put your Help (with TOC/Index/Search) on the web, server, disk or USB key.
All help is non-proprietorial, royalty free & fully compatible with Microsoft Help SDKs/Workshops.
Advanced TOC & Index editor / Help Wizards / plus many other useful utilities.
Fast multi-file features:
Advanced Find & Replace (can operate in batch mode).
Set File Encoding (Unicode/UTF-8/ANSI - With/Without BOM).
Set File Date.
Set File Attributes.
File Copy (flat or hierarchical).
File FTP Copy.
File Zip/Unzip (.zip/.cab).
Batch mode (unattended mode).
Many more time-saving features.
Operating System:
Windows 7, 8/8.1, 10
Home Page
-
http://www.helpwaregroup.com