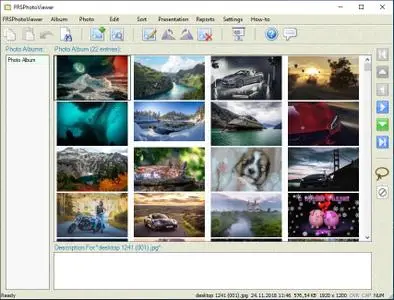 FRSPhotoViewer 2.1.0 | 8.1 Mb
FRSPhotoViewer makes it very easy to view your digital photos.
Features:
Photos can be anywhere on your computer.
It is trivial to create a full-screen presentation.
Generating a web page of your photo album is easy to do.
Any number of photo albums can be added.
Intuitive organization of your photos within a photo album.
Simple labeling of your photos, if so desired.
Thoroughly-documented functionality with the built-in Documentation Center.
Operating System:
Windows 7, 8/8.1, 10
Home Page
-
http://www.fourthray.com/