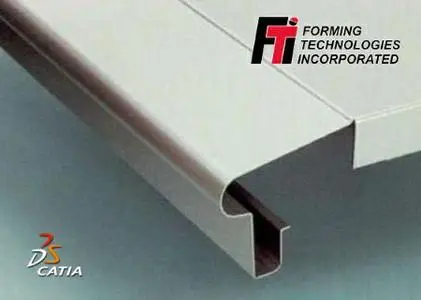 FTI v5.2-5.4 Suite for CATIA V5 R18-R28 (Rev 08-12-2018) | 436.9 mb
Forming Technologies Inc. (FTI) developer of solutions for design, simulation, planning and costing of sheet metal components, has presented 5.2-5.4 versions of FTI CATIA V5-Based software.
About FTI CATIA V5-Based.
FTI CATIA V5-Based software embraces customer's demands of delivering productivity enhancements whilst improving the speed and performance of all simulation solvers (CHI, dFIT, LS-DYNA, Springback, and Nesting).
Aimed at all sheet metal forming and costing engineers, designers, and estimators in the Automotive, Aerospace, Consumer Product and Electrical/Electronic industries, the main objective of FTI CATIA V5-Based software is to introduce new leading edge technology to stamping simulation and to provide continuous improvement to all users in a unified collaborative environment.
About Forming Technologies.
Forming Technologies Incorporated is the world's leading developer of computer aided engineering software for design and simulation of sheet metal components. Since 1989, FTI has provided OEMs and suppliers in the automotive, aerospace and appliance industries with innovative software and training solutions designed to reduce development time and material costs. FTI has trained over 12,000 engineers in Formability and Die Design and is considered the Best in Class around the world for their industry training programs.
Product:
FTI CATIA V5 Based
Version:
*
Supported Architectures:
32bit / 64bit
Website Home Page :
www.forming.com
Language:
english
System Requirements:
PC
Supported Operating Systems:
The same OS for the version of software that you are using.
Software Prerequisites:
DS CATIA V5 32/64-bit, V5 R18-R22 64-bit and V5 R13-R28
Size:
436.9 mb
v5.2 Build 40867 for CATIA V5R18 Win32/64
v5.2 Build 40867 for CATIA V5R19 Win32/64
v5.2 Build 40867 for CATIA V5R20 Win32/64
v5.2 Build 40867 for CATIA V5R21 Win32/64
v5.2 Build 40867 for CATIA V5R22 Win32/64
v5.3 Build 40890 for CATIA V5R23 Win64
v5.4 Build 40947 for CATIA V5R24 Win64
v5.5 Build 40958 for CATIA V5R25 Win64 (new)
v5.5 Build 40958 for CATIA V5R26 Win64 (new)
v5.5 Build 40958 for CATIA V5R27 Win64 (new)
v5.5 Build 40958 for CATIA V5R28 Win64 (new)
Please visit my blog
Added by 3% of the overall size of the archive of information for the restoration

No mirrors please