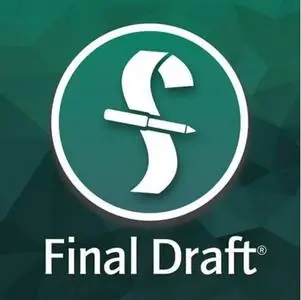 Final Draft 12.0.0 Build 57 | 65.9 Mb
For over twenty years now, Final Draft has shown itself to be the most vital tool available to the screenwriter. Final Draft has eclipsed all of its competitors because it is the best. It does everything you could possibly think of and then you can write and not think of it at all.
The Industry Standard Screenwriting Software
- The number-one selling screenwriting software in the world
- Used by 95% of the entertainment industry
- Best Choice for Screenwriting
- Final Draft paginates your script to entertainment industry formats
- Over 300 templates for screenplays, teleplays, comics, immersive storytelling, graphic novels, and stage plays
New in Final Draft 12:
Powerful Story Planning
With Final Draft 12, you can brainstorm, visualize, outline, report, tag, collaborate and customize your writing environment like never before.
Enhanced Beat Board
Limitless space to organize your ideas in a customizable, visual way. Plan set pieces, store character research, and much more.
- Beats can be anything – plot points, character arcs, research, or location ideas
- Beats can contain both stylized text and images
- Connect beats using Flow Lines
- Color code for easy reference with a vibrant color palette
- Send Beats directly to your script for easy access
ScriptNotes
Add comments to your script as edit ideas come to you.
- Add ScriptNotes that appear as flags on the page for easy reference
- Click the flag to open and edit notes in a popover
- New flags show how many notes per paragraph
- Popovers sync to ScriptNotes in the Navigator
Easier Formatting
Use your creative energy to focus on your story and characters — let Final Draft take care of the rest.
Agile Production
Final Draft is used by 95% of film, television and multimedia productions to get from page to screen.
Revision Mode
Mark and review all changes to take a script through production. Set your revision colors, lock pages, omit scenes - Final Draft makes it easy.
- Add, edit or remove scene numbers throughout your script
- Lock Pages so your revisions don't affect your page numbers
- Export to PDF in Revision Mode with industry standard colors
- Protect your script with customizable watermarks on PDFs and printed pages
- Omit a scene to make last minute changes without disrupting production
Tags Mode
Powerful reporting, your way - create custom reports on any element of your script.
- Dig into your script by tracking customizable story elements and character traits
- Get ready for production by Tagging costume, props, locations and more
- Break your script down for budgeting and scheduling
System Requirements:
- Microsoft® Windows 10 and above
- Minimum 512 MB of RAM
Home Page -
https://www.finaldraft.com