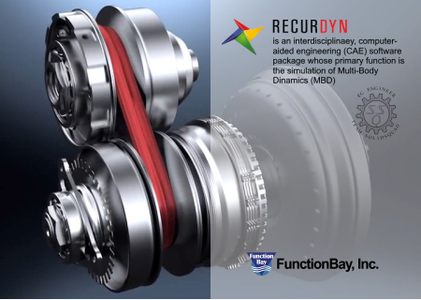 FunctionBay RecurDyn V9R5 SP1 Update | 2.1 Gb
The software developer FunctionBay is pleased to announce the availability of RecurDyn V9R5 SP1 is an interdisciplinary, computer-aided engineering (CAE) software package whose primary function is the simulation of Multi-Body Dynamics (MBD).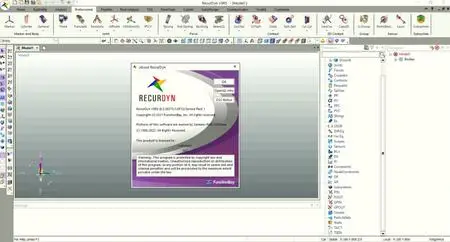 RecurDyn is Integrated Multi-Discipline (IMD)
Computer Aided Engineering (CAE) software. Its primary purpose is Multi-Flexible Body Dynamics (MFBD), which is the prediction of the motion of mechanisms and devices composed of solid bodies, in which the bodies can be modeled as either rigid or flexible bodies. RecurDyn contains many components, such as Finite Element Analysis (FEA), Optimization Design, Automatic Control, Fatigue Analysis, as well as rigid Multibody Dynamics.
RecurDyn has superior calculation efficiency because it is based on a recursive formulation. Therefore, RecurDyn gives the best performance in large-scale multibody problems (systems with a large number of bodies), including mechanical systems in which complex contact between bodies is very significant. RecurDyn also features a natural, Windows-based User Interface which is intuitive and easy to use, as well as a custom application development environment which enables users to automate complicated and/or tedious tasks.
RecurDyn V9R5 - GUI / Solver /MFBD / Toolkits
RecurDyn V9R5 - Vibration Shape Toolkit
RecurDyn V9R5 - New DOE Capability (Design of Experiment)
RecurDyn V9R5 신기능 소개 - New Python ProcessNet
FunctionBay, Inc.
is a professional developer of Computer Aided Engineering (CAE) simulation software for the simulation of both flexible and rigid body dynamics. Our software solutions, which include the internationally-recognized RecurDyn, integrate many disciplines into a single seamless package. The core of these solutions is Multi-Flexible Body Dynamics (MFBD), which tightly integrates multibody dynamics analysis with non-linear finite element analysis.
FunctionBay, Inc., headquartered in South Korea, is recognized around the globe as a leader in multidisciplinary CAE solutions. We have a global network of sales and support. We have branch offices in Japan, China, Germany, and the United States of America. We have dealer networks in Taiwan, India, Australia, Italy, Switzerland, France, as well as many other locations worldwide.
Product:
FunctionBay RecurDyn
Version:
V9R5 SP1 (v9.5.38373.0.9512) Update
Supported Architectures:
x64
Website Home Page :
www.functionbay.de
Languages Supported:
multilanguage
System Requirements:
Windows *
Software Prerequisites:
pre-install FunctionBay RecurDyn V9R5
Size:
2.1 Gb
FunctionBay RecurDyn V9R5 BN9509
Please visit my blog
Added by 3% of the overall size of the archive of information for the restoration

No mirrors please