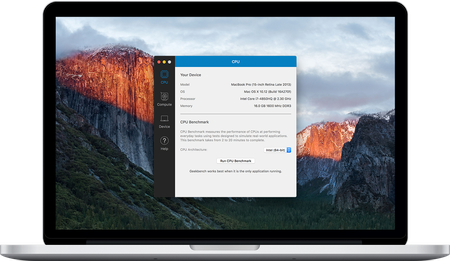 Geekbench v4.0.4 macOS | 96.9 MB
Geekbench 4 measures your system's power and tells you whether your computer is ready to roar. How strong is your mobile device or desktop computer? How will it perform when push comes to crunch? These are the questions that Geekbench can answer.
CPU Benchmark
Each CPU workload models a real-world task or application, ensuring meaningful results. These tests are complex, avoiding simple problems with straightforward memory-access patterns, and push the limits of your system.
Compute Benchmark
Measure the compute performance of your GPU with the new Compute Benchmark. From image processing to computer vision to number crunching, Geekbench 4 tests your GPU using relevant and complex challenges.
Cross-Platform
Designed from the ground-up for cross-platform comparisons, Geekbench 4 allows you to compare system performance across devices, processor architectures, and operating systems. Geekbench 4 supports Android, iOS, macOS, Windows, and Linux.
Real-world tests
The use of comprehensive rests designed to replicate various scenarios from real-world situations allow you to easily determine the speed with which your current or next machine is able to handle various tasks and applications.
Stress tests
What is more, Geekbench provides a series of stress test that can test the stability of your system and reveal small or even big problems with your computer. On top of that, all featured tests are multi-core aware.
Consequently, you can discover the true potential of the system you are testing whether you are running Geekbench on a dual-core MacBook or a 12-core Mac Pro. In addition, Geekbench offers both 32-bit and 64-bit benchmarks.
Furthermore, Geekbench is cross-platform, fact that allows you to compare a wide variety of devices regardless of their manufacturer and operating system. Hence, you can compare Macs with PCs or iOS devices with Android devices.
Clean and intuitive interface
From Geekbench's main window you can easily view information about your Mac's model, processor, memory and operating system. You also have the option to choose between the 32-bit and 64-bit benchmarks.
Once the test is complete, a result page is automatically opened in your default web browser. From this page you can view your Single-Core along with the Multi-Core score and analyze the results. You can compare your results with other similar systems or share them with other users via the Geekbench Browser.