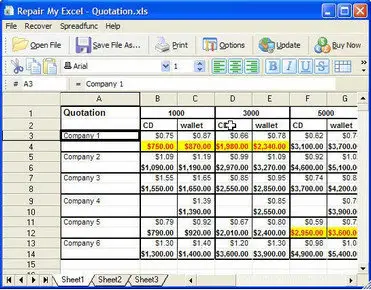 GetData Repair My Excel v1.10.71 | 10.25 Mb
Repair My Excel - Repair My Excel will fixed damaged or corrupt Microsoft Excel files. Repair My Excel will open the damaged Excel file and preview the content of the file. Repair My Excel will recover forumulas, formatting, font, colour, hyperlinks, URLs etc. Repair My Excel will fix errors like "Unable to read file" and "The document is corrupt and cannot be opened". It is a simple to use Excel repair utility that does not require technical recovery skill.
Key Benefits
Excel Recovery of all versions, including Excel 97, 2000, 2002, XP and 2003
Recovers the names of worksheets
Recovers excel formulas
Excel Workbook repair and spreadsheet recovery
Repair Excel formatting, including font, color, hyper links, URLs etc.
Full recovery preview of the file in the Excel Recovery Windows
Simple to use, with no technical Excel recovery skills required
Home Page:
http://www.repairmyexcel.com/