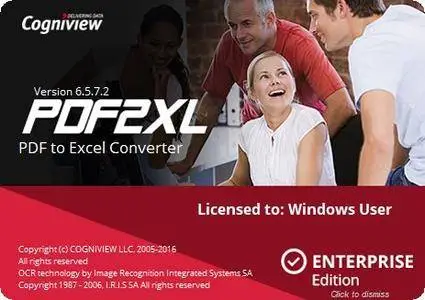 CogniView PDF2XL Enterprise 6.5.7.2 Multilingual | 37 MB
PDF2XL Enterprise is our premium edition that allows you to convert almost anything to Excel so you can continue working and not worry about endless hours of manual retyping. PDF2XL Enterprise has all the best features from our Basic and OCR editions, so you can the best of the best.
Convert ANYTHING to PDF2XL with a virtual printer
PDF2XL Enterprise adds our CogniView Virtual Printer to your computer so you can send anything that you can print directly into PDF2XL Enterprise for processing – images, web sites, proprietary software, third-party software and more.
Convert Scanned PDF file with error correction control
PDF2XL Enterprise supports scanned and image based PDF files and gives you a simple to use interface to control OCR corrections when necessary. Sometimes even a computer needs to make sure the letter 'O' is not the number zero :)
Convert JPG, BMP, PNG and other image formats with error correction control
With our built-in OCR technology and error correction control, PDF2XL Enterprise also supports full conversion for standard image files so you can convert your existing image library.
Convert long PDF files by applying a "Single Page Structure" to multiple pages
By re-applying a single "page structure", PDF2XL allows you to convert PDF files of any size.
Supports scanning directly into Excel
PDF2XL Enterprise allows you to streamline your workflow and scan your documents (Faxes, Printed Reports, Letters and Much More) directly into the software for quick conversion so you don't need to worry about handling more than one scanner software.
Save time and convert up to 500 pages per minute
PDF2XL allows you to convert multiple pages and multiple documents at a speed of up to 500 pages per minute, which means that even the longest files and batch directories will be converted in minutes.
Convert scanned documents in over 30 languages
English, Spanish, Chinese, German, French, Italian, Portuguese and more – PDF2XL OCR includes over 30 OCR dictionaries to ensure that scanned text is converted accurately in your local language.
Extract data from almost any type of PDF
Documents with different tables on different pages, documents with several tables on a single page, rotated pages, PDFs with tiny or unreadable fonts, PDF documents with a combination of fields and tables, and dozens other types of PDFs.
Multilingual User Interface
PDF2XL Enterprise User Interface (UI) is available in Spanish, Portuguese, Italian, German, French and Dutch, making it easy for you to use PDF2XL Enterprise in your native language.
Use your PDF data in a variety of applications
Aside from Excel, PDF2XL will extract the data to a CSV file (comma separated values) so that it can be uploaded into other applications. You can also export data directly into Microsoft Word, copy it to the clipboard, and to other formats.
And Much More
For Example, PDF2XL allows you to use "layouts" you created for one PDF document to instantly convert other (similar) documents. PDF2XL also allows you to work efficiently by using over 20 "little" productivity features.

PDF2XL has the following requirements for operation:
- Processor: 1 gigahertz (GHz) or faster processor
- RAM: 256 MB system memory (1 GB recommended)
- Display: 800×600 screen resolution (1024×768 recommended)
- Installer size: 25 MB
- Installation footprint: 37 MB
- Available space: Up to 100 MB of available hard drive space
- Microsoft Excel/Word 97 or newer* (required for Microsoft Office integrated features such as conversion to Excel).
Homepage -
https://www.cogniview.com