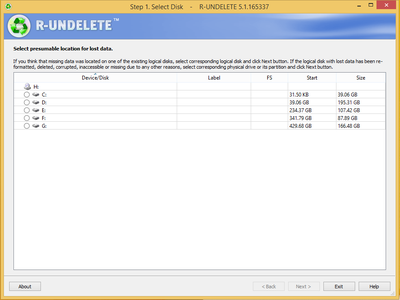 R-Undelete 5.1 Build 165337 Multilingual Portable | 18.3 Mb
Using the same unique data recovery technology IntelligentScan as the heavyweight R-Studio, R-Undelete is an inexpensive and easy-to-use yet powerful file undelete solution for FAT and NTFS file systems. R-Undelete recovers files on any local disks recognized by the software. In addition, raw file recovery (scan for known file types) can be used for heavily damaged or unknown file systems. For user's convenience R-Undelete can be run from disks and folders context menu. Graphic files ( see the list ), video and audio files (all files are supported if a proper codec is installed on the system) can be previewed before they are recovered.
In comparison with the previous versions, R-Undelete 4.x versions are supplemented with an improved wizard-style interface oriented on data recovery novices and an option to recover files from damaged and deleted partitions that bring R-Undelete to the highly rated R-Studio level except for some special data recovery features like RAID , Hex editing and Network support. Found files and folders can now be easily sorted by the original structure, file extension or file creation/modification time. Added S.M.A.R.T. (Self-Monitoring, Analysis and Reporting Technology) attribute monitoring for hard drives allows the users to examine disk health and predict their possible failures. Microsoft's new file system ReFS (Resilient File System) is supported together with Windows 2012 Server OS.
Starting from the version 4.5, R-Undelete creates an image and simultaneously scans the data being copied. The program creates two files stored in the same place: an image file and a file with the scan info. The upgraded file viewer supports the additional file formats including Adobe Acrobat pdf, Microsoft Office documents doc, xls, ppt (Office 97-2003), docx, xlsx, pptx. A new, faster, and more robust algorithm for Known File Types scanning and FAT file system processing has been implemented. The algorithm is adapted to multi-core processing and prevents the program from freezing and crashing in a critical situation.

Home Page
-
http://www.r-undelete.com/