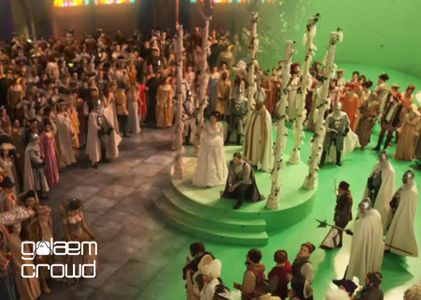 Golaem Crowd 7.3.12 | 1.3 Gb
Golaem has released Golaem 7.3.12, the latest update to its crowd simulation system for Maya. From this release, the Golaem For Renderman plugin writes integer Shader Attributes as Renderman integer user data (was using float before), make sure to update shaders.
Improvements
- Int Shader Attributes are now written as int user data in Renderman
- All crowd units are now supported in the Golaem For 3dsMax plugin
Bug fixes
- Fixed Golaemisator not opening
- Fixed a display memory leak when changing scenes
- Fixed a crash when rendering nCloth simulation in viewport
- Fixed a crash on linux only when using MassSpring Behavior on null-length bones
- Fixed adding cache to a closed tab in the Simulation Cache Library
- Fixed Bump Map not working when using motion blur in Renderman For Katana
- Fixed int id identifier in Golaem For Renderman
- Fixed Curve looping in the Steer Behavior
- Fixed Bone Weights Attributes Attribute Editor in the LookAt Behavior
- Fixed Display Entity Type Attributes Attribute Editor in the EntityType Node
- Fixed traffic steer angle in the ChannelCperator Behavior
- Fixed slot orientations with Populate on Traffic curves
- Fixed Populate on curve with traffic curves distances, when crowd unit is not meters
- Fixed export of some ground mesh that were producing bad Layout ground adaptation
API
- Added entityIds flag in the glmCrowdSimulationExporter command
Supported DCCs
- Autodesk Maya 2017, 2018, 2019, 2020, 2022 (beta)
- Autodesk 3ds Max 2018, 2019, 2020
- Foundry Katana 3.X, 4.X
- Unreal Engine 4.25, 4.26
- SideFx Houdini 18.0.566, 18.5.462
Supported Rendering Engines
- Arnold - Mtoa 4.2.X / KtoA 3.2.X
- V-Ray - For Maya 5.0.22, 5.1 / For 3ds Max 5.1
- Renderman - For Maya 23.0 / For Katana 23.0
- Redshift - For Maya 3.0.36 / For Katana 3.0.36 / For 3ds Max 3.0.36
- USD - Standalone 0.19.11 and 0.20.02 / For Houdini 18 and 18.5 / For Katana 3.5
- 3Delight - For Katana 2.3.2 (through USD)
- Mental Ray - For Maya 3.14
- Guerilla Render 2.1, 2.2
Also supported (but must be manually installed):
- Arnold - Mtoa 4.0.X, 4.1.X / KtoA 3.0
- V-Ray - For Maya 4.0X, 4.1X, 4.3X / For 3ds Max 4.30
- Renderman - For Maya 22.4, 22.5 / For Katana 22.4, 22.5
- Redshift - For Maya 2.6.49, 2.6.5X / For Katana 2.6.55
Since its launch in 2011, Golaem
has been adopted by many of the key facilities in the VFX industry, featuring in no fewer than four separate studios' work on Game of Thrones.
It was developed with the aim of providing a more intutive workflow than traditional simulation software, with users able to use Maya's native tools to control crowd behaviour.
Golaem also includes toolsets for building custom AI logic, generating automatic variations of crowd characters, and interactively previewing and editing simulations.
Output is natively compatible with Arnold, Guerilla Render, Redshift, RenderMan and V-Ray; and users can output to other DCC tools for rendering, including 3ds Max, Houdini and Unreal Engine.
The key change in Golaem 7.3 is the stable release of the new USD procedural plugin, enabling users to export Golaem simulation caches to other DCC software in the now-VFX-industry-standard USD format.
Readymade plugins are available for Houdini, Katana and the USD standalone, but Golaem has now released the source code under an LGPL licence for studios that need to create plugins for other software. The release also adds support for animation layers within the posture and rig layers of the Layout Tool.
Golaem also now supports proper skinning for characters with procedural fur, enabling fur to move more naturally with the crowd animation. The new workflow is compatible with any system that can export fur as Maya or Alembic curves, including third-party plugins like Yeti and Ornatrix.
The updates also continue the trend established in recent releases of broadening Golaem from a pure crowd simulation system to a more general shot layout tool.
The Population Tool, used to place crowd characters in a scene, gets a new Scatter Mode aimed at distributing environment objects like trees, rocks and buildings.
Assets can be scattered around random 'seed' positions on a terrain, or to custom regions of it; and decimated according to surface angle or distance from an object.
Golaem Academy Training Session #1
Golaem Academy Training Session #2
Golaem Academy Training Session #3
Golaem Academy Training Session #4
Golaem
develops artist-friendly tools to animate digital characters. Integrated in Autodesk Maya, Golaem makes it fast and affordable to populate worlds with directable digital characters, from a few to thousands. Artists from all over the globe use Golaem to bring life to commercials, episodic productions, feature films and games.
Product:
Golaem Crowd
Version:
7.3.12 with Character Pack *
Supported Architectures:
x64
Website Home Page :
http://golaem.com/
Language:
english
System Requirements:
**
Size:
1.3 Gb
*
The Character Pack is a set of ready-to-use characters and motions enabling faster crowd shots creation.
NB: the Character Pack HD only contains the HD casual and busines man, for other characters and sample scenes, install the GolaemCharacterPack
Platforms
- Windows 7 SP1, Windows 8 or 8.1, Windows 10 Pro 64 bit

Graphics
- OpenGL 3.3 (2010) or above

Supported DCCs
- Autodesk Maya 2017, 2018, 2019, 2020, 2022 (beta)
Please visit my blog
Added by 3% of the overall size of the archive of information for the restoration

No mirrors please