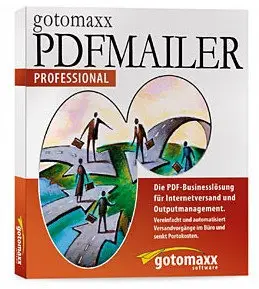 Gotomaxx PDFMailer Professional v5.1.31 | 24.17 Mb
PDFMAILER is the leading PDF software where rational PDF generation for companies is involved. Since 1998, well over a million users have placed their trust in our automatable and easy-to-use product.
The advantages of PDFMAILER
* PDF-Flatrate - PDFMAILER SERVER equips every PC in the network with PDF-capabilities.
* Autopilot - API and Scripting for simplifying and automating the sending and storage procedures.
* Business PDF - Letterheads in PDF – all the logos are inserted while printing.
* Total control - Who is permitted to do what: user rights and user groups can be defined per PC and user.
* Standards - All important formats. Apart from PDF, PDF/A (the current archiving standard), TIFF and JPEG as well.
* Multiplicity of functions - All the important PDF functions: encryption, protection, merging, saving, sending, printing and lots more
Home Page:
http://www.gotomaxx.com/pdfmailer