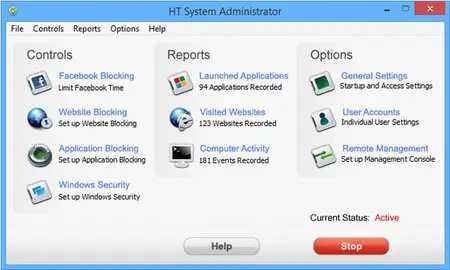 HT System Administrator 10.9.1.40 | 5.2 MB
HT System Administrator is a special application to control computers and block unwanted activities. It's an excellent assistant for system administrators and everyone who needs to manage his computer usage. Once installed, System Administrator can restrict access to games, instant messengers, web browsers and other apps installed on your PC. As a powerful Internet filter, HT System Administrator can block specified websites and inappropriate content.
With HT System Administrator You Can:
Block and Limit Social Networks
Facebook and other popular social networking sites can take hours of your computer time. With just two clicks social networks and all associated pages will be locked on your computer and access to them forbidden. With a few more clicks, you can limit the time users can spend on social networks while not blocking them completely. See how to block Facebook in Google Chrome.
Block and Limit Certain Websites
HT System Administrator can block any website according to your settings. You can block certain websites by URLs, by keywords or by entire categories. Each category contains hundreds of websites belonging to a particular subject such as adult content, social networks, etc. Browser type and version make no difference. The program supports all of them.
Block all Websites except a Few
Some companies prefer to block all websites and give web access only to sites needed for work. Entrust this task to HT System Administrator. Simply prepare your list and add it to the program. Any site not included on your list will be blocked and any site included on your list will be allowed with all its pages.
Block Certain Applications
Block any program from launching on your computer. System Administrator can block games in a simple way and even the most computer-savvy users cannot circumvent the ban. You can restrict access to instant messengers such as Windows Live Messenger, AIM, ICQ, Yahoo messenger and others. This can be extremely useful for system admins who have the task of banning time wasting apps.
Remote Management
You can also configure HT System Administrator remotely from any computer on the same network. Using Remote Management, you do not need to access the computer to set up or change the filters. Just open your browser and connect to the Web Console of the selected computer. Read more about Remote Management
Disable Access to Windows Setting
If you need to disable important Windows options such as Task Manager, Control Panel, Registry Editor, etc., so users cannot access them or change them, please rely on HT System Administrator.
View Detailed Statistics
System Administrator provides detailed statistics for websites and applications. This allows you to review which websites were visited, what apps were launched, how much time was spent on them, which websites/apps were blocked. In this way, you can check the work of the program and your users' work.
OS :
Windows 10, Windows 8, Windows 7, Vista, XP
Language
: English
Home Page
-
http://www.hidetools.com/