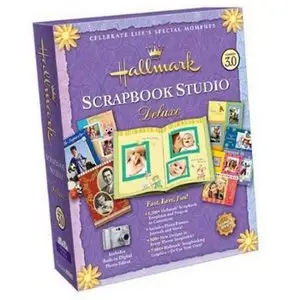 Hallmark Scrapbook Studio 3.0.0.18 | 1.1 Gb
Commemorate the special events in your family's life by creating beautiful scrapbooks the Hallmark way
Hallmark Scrapbook Studio Features:- Scrapbook Pages and Other Projects for All Occasions
Pick a special page for every occasion! Hallmark Scrapbook Studio features hundreds of designs for your family and events. You'll find everything you need — from birthday and holiday designs to seasonal and special occasions. There are two ways to select the design that's just right:
Select a project type on the Home screen.
You select a category and subcategory for that project type and then browse through the choices. Once you've found the right design, you can easily add a photo or additional text.

Search by theme.
By using Search Theme you can find projects using themes and keywords.- A Note About Other Projects
Although some of the instructions in this help system refer specifically to scrapbook pages, you can follow the basic steps to create photo frames, journal or diary pages, family trees, or cutouts. You may use the photo frames, family trees, and cutouts in your tradition scrapbook or add journal pages to your scrapbook created with pages from Hallmark Scrapbook Studio.
- Art Studio
Although you have many options in all categories, you may have your own ideas. Express them in the Art Studio. You can mix and match phrases, designs, art from the Art Book and import your digital photographs, or you can create drawings and text from scratch. In Art Studio, you can start with blanks for other project types like photo frames, scrapbooks and postcards.
- Sending Your Projects over the Internet
You can send your project over the Internet directly to someone else. When the recipient receives the project, he or she can view the project as a movie on his or her computer screen.
- PhotoPower
It's disappointing when an important picture doesn't turn out well. With PhotoPower, you can brighten a photo that's too dark or darken a photo that's overexposed. Use PhotoPower to adjust a photo's contrast, colors, and sharpness, and remove the color distortion in a subject's eyes (red-eye effect) caused by camera flash. With PhotoPower you can crop photos, create photo cutouts shaped like hearts, leaves, stars and other objects, trace the edge of a person or pet and keep only the cutout! You can also clone parts of a picture to enhance or improve the picture.
Note: Some versions of Hallmark Scrapbook Studio do not include PhotoPower. If your version does not include this program, you will not see the PhotoPower button on the Art Studio screen.
More info:
www.hallmarksoftware.com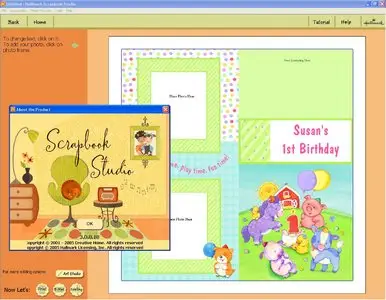 visit my blog
Name:
Hallmark Scrapbook Studio
Version:
3.0.0.18
Creator:
www.hallmarksoftware.com
Interface:
english
OS:
Windows 98 / Me / 2000 / XP / Vista
Size:
1.1 Gb
Скачать | Download c letitbit.net
Скачать | Download c filesonic.com
Скачать | Download c depositfiles.com
Скачать | Download c vip-file.com

http://www.filesonic.com/file/1310613001/hascst1130018.part1.rar
http://www.filesonic.com/file/1310647831/hascst1130018.part2.rar
http://www.filesonic.com/file/1310685971/hascst1130018.part3.rar
http://www.filesonic.com/file/1310709621/hascst1130018.part4.rar
http://www.filesonic.com/file/1310713011/hascst1130018.part5.rar

http://letitbit.net/download/03256.06e3ad2a3f882036dd48fd573681/hascst1130018.part1.rar.html
http://letitbit.net/download/08777.05d5d5af10cffe00a66e7826afc3/hascst1130018.part2.rar.html
http://letitbit.net/download/61209.6cd43c4815b51bb6c36aa4ec3ab2/hascst1130018.part3.rar.html
http://letitbit.net/download/37450.36685fa104e31d3fe0a7fb98da74/hascst1130018.part4.rar.html
http://letitbit.net/download/29904.26b60a795b3a90cc001db15073ab/hascst1130018.part5.rar.html

http://depositfiles.com/files/h837hkjrw
http://depositfiles.com/files/ty12ncq8b
http://depositfiles.com/files/0ghqtzp1w
http://depositfiles.com/files/k0uu8kr34
http://depositfiles.com/files/b0jcrud25
All parts on depositfiles.com, letitbit.net, filesonic.com interchanged. It is added by 5% of the overall size of the archive of information for the restoration

No mirrors please