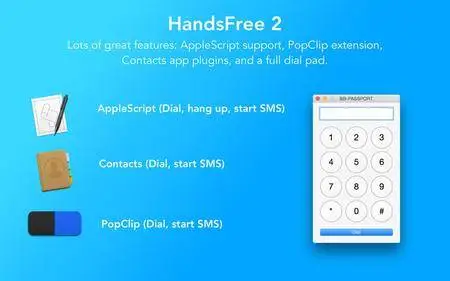 HandsFree 2.6.0 | MacOSX | 9 MB
Use any Bluetooth phone for calls, text messages, recordings and much more. HandsFree 2 allows the use of the Mac, to make phone calls, send / receive text messages *, record conversations, see the lists of calls and more. HandsFree - an application that uses the built-in microphone or a headset connected to your Mac to respond to telephone calls coming to your iPhone, so you never have to take the phone out of your pocket to use it, even if it is in another room. Hands Free 2 runs in the background (with an icon is always available in the status menu), you do not have to worry about missed calls or text messages. The utility works with any Bluetooth and is compatible with phones such as Android, Windows Phone, BlackBerry or iPhone.

Features
• Wireless connectivity to your phone via Bluetooth.
• Calling from the contact list, using the numeric keypad or you can call directly from Contacts.
• Viewing incoming SMS (text messages) directly to your Mac.
• Send or reply to SMS messages from your Mac. *
• Quickly view missed, incoming and outgoing call lists.
• Record important calls.
* Support for sending text messages, you need the phone without IOS.

What's new
[New] Added button in send text message dialog to quickly show the Emoji chooser.
[Fixed] Issue where incoming text messages would hang the app when using certain Samsung phones.
[Fixed] Issue where the audio device could switch back to the built-in microphone and speakers after answering a call on the Mac.
[Fixed] Issue where it could be hard for the other party to hear you. The input gain for the microphone is now set to the maximum when a call is active. This also really helps when recording conversations.
[Fixed] Issue where searching for a contact using two words would show incorrect results.
[Fixed] Potential crash when showing a call dialog.
[Improved] The app will switch back to the chosen audio device when it's plugged back in. This is especially useful when using a USB headset that is occasionally unplugged.
Requirements
Intel, 64-bit processor OS X 10.9 or later
Home Page
-
https://www.tunabellysoftware.com/handsfree2/