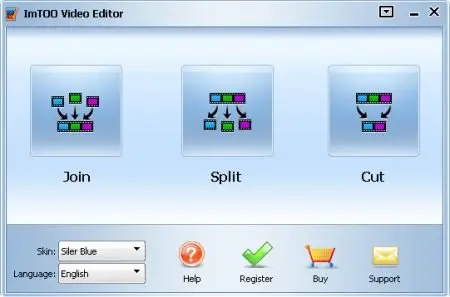 ImTOO Video Editor 1.0.34.0612 | 10.02 Mb
ImTOO Video Editor is a powerful video editor tool comprising functions of Video Joiner, Video Splitter, and Video Cutter. The video editor can help you join multiple video files into a new one, split one file into several segments, or merge your favorite video segments which are cut from one video to a new one easily and fast. This video editor software supports editing video files such as AVI, MPEG, WMV, MP4.
Key Features
• The format of the single output video file merged from multiple videos is one of the input formats.
• In the video joiner, you can adjust bit rate, frame rate, resolution to get the best effect for your video.
• Video splitter allows you to automatically split by time, by segment size or by the number of segments.
• Cut out a video file to get video clips. Delete any clips shown in the list and output the desired clips as a one.
• The built-in player in the splitter, joiner and cutter helps you preview the video, as well as the output one.
• Run the video editor software in the background to save space and do other important things.
• Automatically shut down or process other after-done actions when the cutting, splitting or joining is done.
Home Page -
www.imtoo.com