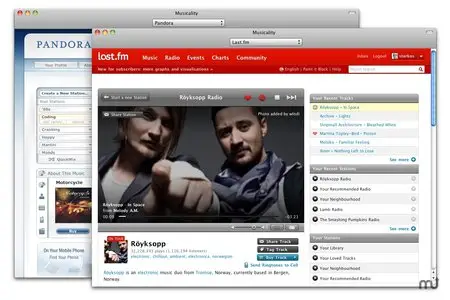 Industrious One Musicality v1.3.2 Mac OS X | 5.2 MB
The Mac music player for Pandora, Last.fm, and Grooveshark that puts you in control. With keyboard shortcuts, media keys, the Apple remote, Growl notifications, and Last.fm scrobbling…Musicality makes your music better.
One player, much music
Musicality lets you switch quickly and easily between Pandora, Last.fm and Grooveshark (with more on the way) so you can enjoy your music no matter where it lives.
Break free of the browser
Get your music out of the browser and into a streamlined window of its own. Close it, and the music keeps on playing. No more juggling browser tabs, or accidentally closing the wrong window.
Rock the keyboard
Use the media keys or define your own keyboard shortcuts to play, pause, skip, and rate your music without leaving your current application or even taking your hands off the keyboard.
Growl
Musicality works with the popular Growl notification service, letting you know which song is playing—including the title, artist, album, and even the cover art—simply and unobtrusively.
Remote control
Musicality supports the Apple Remote so you can play, pause, skip and even rate your music without ever leaving the dance floor.
Last.fm
Musicality can send information about the songs you play to Last.fm, where you can share it, track it, and graph your listening trends in all kinds of interesting ways.
Homepage:
http://industriousone.com/musicality