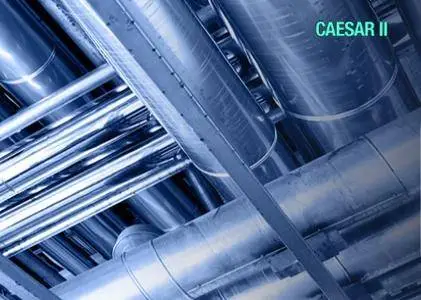 Intergraph CAESAR II 2018 version 10.00.00.7700 | 1.2 Gb
CADWorx & Analysis Solutions announces the release of CAESAR II 2018 (version 10.0), the newest version of Hexagon PPM's industry-acclaimed solution for pipe stress analysis for evaluating the structural responses and stresses of piping systems according to international codes and standards.
In addition to the latest piping codes, CAESAR II now supports a KHK Level 2 analysis of the stability of a piping system during a serious seismic event, helping ensure the safety of facility piping in earthquake-prone areas. The new version also offers the ability to identify and track supports throughout the software using new support and hanger tag fields. When a user deletes a load case, the software automatically renumbers remaining cases and indicates any impacts from the deletion to combination cases. In CAESAR II 2018, quick model changes are also possible with Find & Replace option in the list inputs. Rick Allen, president of CADWorx & Analysis Solutions at Hexagon PPM, said, "CAESAR II sets the standard for pipe stress analysis, and we are continuing to lead the industry by offering the codes and standards our users require."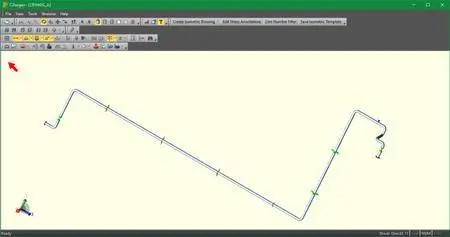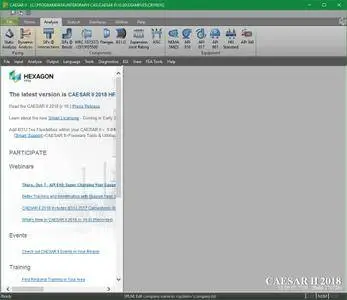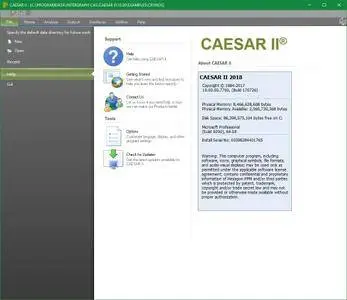 About Intergraph CAESAR II.
The world's most widely used pipe flexibility and stress analysis software, CAESAR II® is a complete solution that enables quick and accurate analysis of piping systems subjected to a wide variety of loads, taking into account weight, pressure, thermal, seismic and other static and dynamic conditions, based on user-defined variables and accepted industry guidelines.
CAESAR II analyzes piping systems of any size or complexity, whether the need is to design a new system or trouble-shoot an existing one. And, CAESAR II features the only bi-directional link between analysis and CAD design, allowing engineers and designers to easily share information while keeping the drawing and related data in sync.
About CADWorx & Analysis Solutions.
CADWorx & Analysis Solutions is part of Hexagon PPM. It develops and supports the following products: CADWorx, for plant design; CAESAR II®, for pipe stress analysis; PV Elite, for pressure vessel analysis; and GT STRUDL, for structural analysis.
Hexagon PPM is the world's leading provider of enterprise engineering software enabling smarter design and operation of plants, ships and offshore facilities. Hexagon PPM is part of Hexagon, a leading global provider of information technology solutions that drive productivity and quality across geospatial and industrial landscapes.
Product:
Intergraph CAESAR II
Version:
2018 version 10.00.00.7700 (Build 170726)
Supported Architectures:
32bit / 64bit
Website Home Page :
www.coade.com
Language:
english
System Requirements:
PC
Supported Operating Systems:
Windows 7even or newer
Size:
1.2 Gb
Please visit my blog
Added by 3% of the overall size of the archive of information for the restoration
No mirrors please