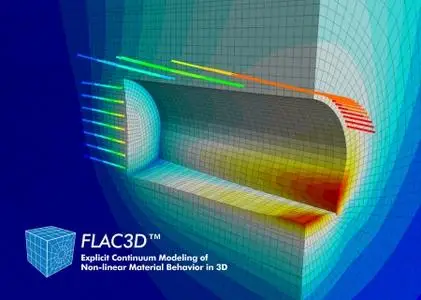 Itasca Flac3D 6.00.69 | 405.6 mb
Itasca Consulting Group, Inc. has launched Flac3D 6.00. This release includes a small of bug fixes and technical improvements as well as new features and tools.
Itasca Flac3D 6.00.69 - Date 04/17/2019:Bug Fixes:
- Embedded liner element coupling spring properties in side 2 were not being initialized properly. If not specified they could have random values.
- Bug fix to scale attribute command processing for plot items, the automatic state was being removed.
- Fixed results file import/export of zone constitutive model information - including properties and state
New functionality has been added to FLAC3D in 2018:
- Printable PDF versions of selected sections of the FLAC3D Help file (FLAC3D Modeling, Examples, and Theory and Background) are now available
- Save files are now created around 35% faster in most cases
- Results files can now be generated using a preselected partial range of zones
- Beam, Cable, and Pile contour plots are now exportable as CSV files for easy importing into spreadsheets
- FISH scripts now run up to 2x faster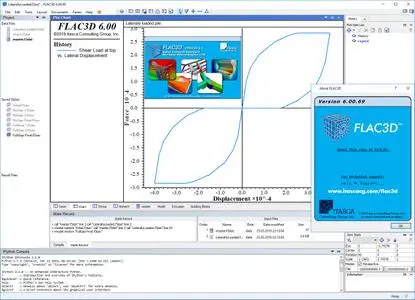 About Itasca Flac3D.
FLAC3D (Fast Lagrangian Analysis of Continua in 3 Dimensions) is numerical modeling software for geotechnical analyses of soil, rock, groundwater, constructs, and ground support. Such analyses include engineering design, factor of safety prediction, research and testing, and back-analysis of failure.
Continuum analysis can be applied to engineering design of civil, mining, and geotechnical excavations (e.g., slopes, tunnels, caverns, stopes, etc.) and constructs (dams, foundations, footings, walls, etc.) in soil, intact rock, and rock masses (i.e., heavily jointed rock). Using interfaces, FLAC3D can also simulate discontinuities such as faults, joints, bedding planes, and engineered boundaries along constructs.
FLAC3D utilizes an explicit finite volume formulation that captures the complex behaviors of models that consist of several stages, show large displacements and strains, exhibit non-linear material behavior, or are unstable (including cases of yield/failure over large areas, or total collapse).
This tutorial steps through the actions necessary to quickly create and solve a FLAC3D model. The focus of this tutorial is to provide you with a basic familiarity with the user interface and recommended work flow.

The modeling stages demonstrated include creating and saving a project, using building blocks to create intersecting tunnels, defining model boundaries and boundary conditions, assigning a constitutive model and initial conditions, solving the model (including tunnel excavation), and plotting the results.
About Itasca Consulting Group, Inc.
Itasca is a global, employee-owned, engineering consulting and software firm, working primarily with the geomechanics, hydrogeological and microseismics communities. We solve problems in many industries including mining, civil engineering, oil & gas, manufacturing and power generation. Itasca is headquartered in the USA, with subsidiary offices in Minneapolis and Denver, and offices globally.
Product:
Itasca Flac3D
Version:
6.00.69
Supported Architectures:
32bit / 64bit
Website Home Page :
www.itascacg.com
Language:
english
System Requirements:
PC*
Size:
405.6 mb
System Requirements
- Operating System: Windows 7 or later (with the latest service packs installed)
- Hard Disk: 500 MB
- Processor: Dual core CPU (2 GHz)
- Memory (RAM): 1 Gbyte
- Video Card: HD graphics card, 800 x 600 pixels, 32-bit color palette, OpenGL 1.3 or higher
- Ports: 1 USB port is required for the security key
Recommended Minimum System
- Operating System: Windows 10 Pro (with the latest service packs installed)*
- Hard Disk: 2 TB, 7200 rpm or better
- Processor: Intel Core i7 CPU (3 GHz) or better
- Memory (RAM): 16 Gbytes or better (large models may require more memory)
- Video Card: HD graphics card, 1024 x 768 pixels, 32-bit color palette or better, OpenGL 3.1 or higher
- Ports: 1 USB port is required for the security key
Please visit my blog
Added by 3% of the overall size of the archive of information for the restoration

No mirrors please