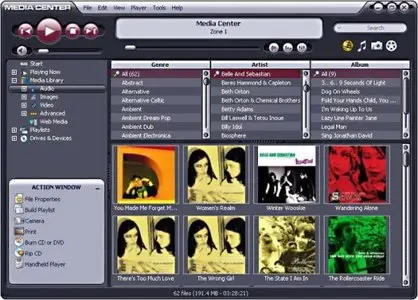 J.River Media Center v14.0.118 Portable
WinXP: 63.2 Mb | Win7: 37 Mb
Music, photos and video YOUR way – all from a single software program! Connect your PC to your home entertainment hardware and control it all with a remote! Load your music on your iPod while you watch TV! All with one easy-to-use program – MEDIA CENTER!
Features:
Organize your images
The main image screen, showing thumbnails of digital camera images. An optional properties page can be opened to show details about each image.
Theater View
A unique full screen mode. This customizable view is designed for browsing your media on a monitor or TV from across the room. Type is enlarged
and navigation is simplified for easy use with a remote device.
Mobilize your tunes
MC supports more hardware players than any other application. Now you can synchronize your library with your Apple iPod or one of many
supported devices
Organize and experience all your media
Music, photos, and video YOUR way – all from a single software program! Connect your PC to your home entertainment hardware and control it all with a remote! Load your music on your iPod while you watch TV! All with one easy-to-use program – MEDIA CENTER!
MEDIA CENTER has a streamlined user interface, designed to make it even easier to organize, find and play your digital files, and to connect to hardware devices.
Easy-to-use Action Window
A graphical way to select commonly used features like burning or tagging or transferring to a handheld. Just select an icon then drag and drop your files to it.
More Visualizations
Improved internal 2D and 3D visualizations, and support for leading edge visualizations like G-Force and the new SoftSkies.
More skin options than ever
Choose from Noire, Thunderstorm, Aruba and others. Many user-created skins. Over 400 Mini View skins to choose from.
Media Mode buttons
Quickly target the media that you want to view.
Audio, images or video.
Tree View navigation
A simplified organization structure provides a clean look with quick links to access the key areas of the program.
Make your media part of your digital lifestyle
Copy music from MEDIA CENTER to a portable digital audio player or move digital camera photos into MC's powerful image library. Make a CD of music for your car. Record your favorite shows and watch them on your TV. More than one soundcard? Play different music simultaneously in different rooms. MC's Media Server can even stream your music to your PC at work!
Camera and Images
~ Support for Canon and Kodak cameras and others that use the WIA interface. Almost all cameras are supported.
~ Image enhancement during slide show or for e-mail and web upload.
~ Display color images as black-and-white or sepia.
~ JPG, BMP, TIFF, RAW and PNG support.
~ With one click, acquire images from your camera and load them into your media library.
~ Basic image editing.
~ New MyGal web gallery to post your pics for friends and relatives. Free web space.
Handheld Devices
For the iPod:
~ Single Click Synchronization of iPod audio and data with MC.
~ Apply Replay Gain to files on iPod.
~ Dynamically adjust playback volumes.
~ Audible file bookmarking.
~ iPod playcounts, date last played, and rating transfer to MC from iPod.
For players that support synchronization or appear as a drive:
~ Drag and Drop on Handheld image in the Action Window.
~ One click synchronization.
For players that appear as a drive:
~ Auto create a folder structure based on tags.
~ Designate a root directory.
For Microsoft PlaysForSure devices
~ Support for handhelds that play Microsoft protected files and the WMDM standard.
Remote control
Improved learning mode and additional commands.
Cover View
MC has a view showing album covers for audio tracks. It is one of many views that allow you to browse and play your media collection.
Digital Images
An image screen, showing thumbnails of digital camera images. Images can be tagged, edited or sent to email or uploaded to a web server.
Theater View
Prefer to browse your media from the comfort of the couch? This customizable view is designed for use from across the room on a monitor or TV. Type is enlarged and navigation is simplified so it's easy to use with a remote.
PLAY your media YOUR way
Create a slideshow of your vacation photos, and add a music soundtrack from your song library. Get the party started with a playlist of hot tunes. Or let MC do the work by picking an Auto Smartlist, such as an hour of random music, a CD of MP3 favorites, an audio CD of recently played tracks etc.
Slideshow
Digital images can be screened in an automated slideshow, and shown full screen. You can stop to zoom in on a single image, pan from side to side, and then resume. All with your favorite music playing in the background. Powerful TV Features
TV recording, pause, resume, fast forward and re-wind (TV Tuner card required). Control it using a remote device across the room or a PDA, PocketPC or TabletPC.
ORGANIZE your media YOUR way
Want to arrange your pictures by subject, date, and location? Categorize your music by artist, album, genre and assign a star-rating to your favorite songs? Or sort your videos by director, cast and year? Do it easily with the world's most powerful and flexible media library. Even add your own custom categories.
Search popular services
Mine the richest media sites on the web. You can play, download and import files directly into MC from popular sites, such as Google Video, YouTube, Google Images and Shoutcast. Upload your pictures and video to the web
The new pix01 feature lets you select pictures and video in your MC library and instantly upload a picture or video gallery to the web for sharing with friends and family. Upload to the free pix01 server or use your own ftp destination.
CD and Track Lookup
J. River's YADB database is the most trouble-free and accurate database available for CD titles and tracks. Audio fingerprinting also lets you look up track names on individual tracks. Extensive Tagging Capabilities
MC supports ID3v1 and ID3v2 for music. It supports J. River tags for photos. It can also import MusicMatch tags. You can fill the tags from the file names, re-name files from the tags, clean tags and much more. When the files are moved and re-imported, the organization is restored.
Many more features to help you take control of your media
DVD playback, multi-zone playback, ASIO output, cover art retrieval, Track info templates with cover art and lyrics, wide support for remotes, and many more great features. MEDIA CENTER has more power, flexibility and features than any other media player.
14.0.118 (12/23/2009)
1. Changed: When searching for controllable DLNA devices, devices appear as they're found instead of after the search completes.
2. Changed: When a zone is added or removed (i.e. DLNA device found) 'Playing Now' will be expanded in the tree to show the change.
3. Changed: Searching for DLNA devices happens periodically instead of only at startup.
4. Changed: When controlling a DLNA device, metadata is provided to the device for display during playback.
Note:
1- For WinXP Version Go To Help And Choose "Install License" Then choose "Restore License from File (.mjr)" And Choose BALTAGY.mjr File That Included
2- Enjoy!
Homepage -
http://www.jriver.com/