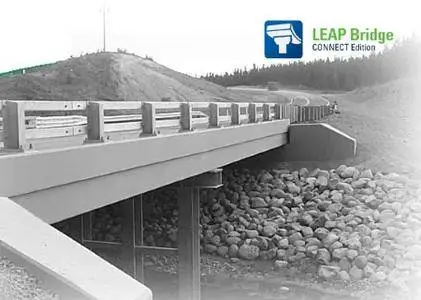 LEAP Bridge Concrete CONNECT Edition V17 Maintenance 1 | 555.2 mb
Bentley Systems Inc., the leading company dedicated to providing comprehensive software solutions for sustaining infrastructure, has released an updated to LEAP Bridge Concrete CONNECT Edition V17, is a powerful modeling and analysis solution for small to medium concrete bridges of all types: precast, cast-in-place, reinforced, and post-tensioned.
This comprehensive bridge application offers a synthesis of geometric modeling, substructure and superstructure analysis
and design, and load rating in a single, information-rich environment. Intelligent data management, computational modeling, and automated drawing production revolutionize the bridge delivery process.
Improve decision making for design and construction while connecting and enhancing your workflow. Exchange project information including bridge geometry, materials, loads, prestressing strand pattern, and shear reinforcement. Innovative analysis, design, and load-rating functionality come together in one advanced environment with LEAP Bridge Concrete.
Tap into the full power of specialized modules that share a common information model from a single interface for:
- Computational bridge layout and design
- Analysis, design, and load rating for post-tensioned and reinforced concrete box girder, T-beam, and slab bridges
- Analysis, design, and load rating for simple and multi-span precast and prestressed concrete bridges
- Analysis and design of reinforced concrete abutments, piers, and foundations
- Analysis and design of spliced precast/prestressed bridge girders
Easily handle the vast majority of the bridges built today, with the smart choice for concrete bridges.
LEAP Bridge Concrete CONNECT Edition V17 contains enhancements and bug fixes. The major enhancements include:
- Response spectrum analysis for seismic design
. US LRFD code
. Indian code
- Support new PennDOT girder types for superstructure design
. 28 Adjacent Box Beams
. 75 I-Girders
. 28 Spread Box Beams
- Support installation of multiple versions
- New features for India market
. Sloped footing
. Sloped abutment
. Detailed design reports
What is New & Changed?
LEAP Bridge Concrete (LBC) CONNECT Edition 17.00. 01.01 is the consolidated version of all LEAP standalone products including CONSPAN, CONBOX, RC-PIER, GEOMATH, and CONSPLICE. It incorporates Bentley CONNECT which helps you produce better designs by facilitating collaboration, interoperability, standardization and skills development. For an organization and enterprise, CONNECT provides greater insight and control over project design, deliverables and the people working on them. This release extends CONNECT features further.
Following enhancements are available in this LEAP Bridge Concrete release.
- CONNECT Advisor
Get access to relevant help on Bentley Communities, Learn Server and YouTube right from within LEAP Bridge Concrete.
- CONNECT Updater
LEAP Bridge Concrete CONNECT Edition now includes a notification service from within the CONENCTION Client that notifies you when new versions are available to download and install.
Apart from the enhancements to LEAP Bridge Concrete listed above, this release incorporates fixes for the following bugs.
- Precast/Prestressed Girder module (formerly called CONSPAN)
· Incorrect live load reactions used for substructure design were reported at intermediate bents for Multi-span (Non-Continuous) option.
· Stability check of girders subject to lifting and transportation did not work.
- Substructure module (formerly called RC-PIER)
· Bearing sets kept getting duplicated after the dialog of Bearing/Girders was opened and closed using OK button.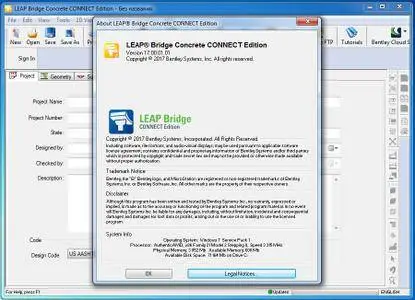 About Bentley Systems, Incorporated
Bentley is the global leader dedicated to providing architects, engineers, constructors, and owner-operators with comprehensive architecture and engineering software solutions for sustaining infrastructure. Founded in 1984, Bentley has nearly 3,000 colleagues in more than 45 countries, $500 million in annual revenues, and, since 2001, has invested more than $1 billion in research, development, and acquisitions.
Product:
LEAP Bridge Concrete
Version:
CONNECT Edition V17 Maintenance 1 (version 17.00.01.01)
Supported Architectures:
32bit / 64bit
Website Home Page :
www.bentley.com
Language:
english
System Requirements:
PC
Supported Operating Systems:
Windows 8.x / 10
Size:
555.2 mb

visit my blog
No mirrors please