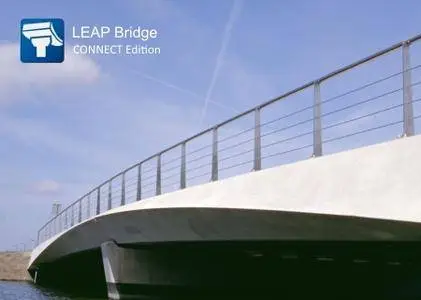 LEAP Bridge Concrete CONNECT Edition V18 | 690.2 mb
Bentley Systems, Incorporated is pleased to announce the availability of LEAP Bridge Concrete CONNECT Edition V18 is powerful modeling and analysis software for concrete bridges of all types: precast, cast-in-place, reinforced, and post-tensioned.
This release contains enhancements and bug fixes:Major Enhancements
Concurrent loads in shear/torsion design
- LBC now offers an option for shear and torsion design check for substructure using the maximum shear with concurrent torsion, and the maximum torsion with concurrent shear.
Extension of Response Spectrum Analysis
- Support Canadian CHBDC code
- Support static live load
- Seismic reports in enhanced format
Extension of the new graphic engine of the 3D viewer for
- Main module
- Precast/Prestressed Girder module
Pennsylvania option for the State Specifications
- Compliance with PennDOT DM-4 (phase I)
- Skew angle reported in PennDOT format
- Support design live load PHL-93
- Support permit live load P-82
- Dynamic load allowance for permit live load
- No reduction in load distribution factor of moment for skewed bridges
Additional Enhancements
- Intraoperability with OpenBridge Modeler
. Stepped cap pier
. Support different material properties of column and drilled shaft
. Modified definition of H-pile
- An option to use equal shear force distribution in shear design
- Vertical wind load auto-generation per FDOT SDG
- GUI cleaning for dead and vertical soil pressure loads
- Live load generation details in final design reports
- New input for material property of drilled shaft
- End diaphragm design for India market
For the detailed release notes, see the attached PDF file
LBC.CE.V18.Release.Notes.pdf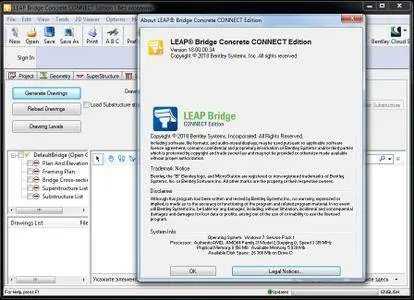 About LEAP Bridge Concrete.
Improve decision making for design and construction while connecting and enhancing your workflow. Exchange project information including bridge geometry, materials, loads, prestressing strand pattern, and shear reinforcement. Innovative analysis, design, and load-rating functionality come together in one advanced environment with LEAP Bridge Concrete.
Tap into the full power of specialized modules that share a common information model from a single interface for:
- Computational bridge layout and design
- Analysis, design, and load rating for post-tensioned and reinforced concrete box girder, T-beam, and slab bridges
- Analysis, design, and load rating for simple and multi-span precast and prestressed concrete bridges
- Analysis and design of reinforced concrete abutments, piers, and foundations
- Analysis and design of spliced precast/prestressed bridge girders
Easily handle the vast majority of the bridges built today, with the smart choice for concrete bridges.
About Bentley Systems, Incorporated.
Bentley is the global leader dedicated to providing architects, engineers, constructors, and owner-operators with comprehensive architecture and engineering software solutions for sustaining infrastructure. Founded in 1984, Bentley has nearly 3,000 colleagues in more than 45 countries, $500 million in annual revenues, and, since 2001, has invested more than $1 billion in research, development, and acquisitions.
Product:
LEAP Bridge Concrete
Version:
CONNECT Edition V18 (build 18.00.00.34)
Supported Architectures:
x64
Website Home Page :
www.bentley.com
Language:
english
System Requirements:
PC
Supported Operating Systems:
Windows 7even or newer
Size:
690.2 mb
Please visit my blog
Added by 3% of the overall size of the archive of information for the restoration

No mirrors please