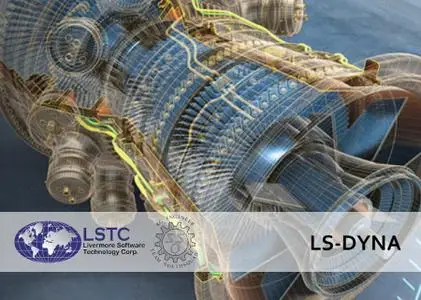 LS-DYNA SMP R11.2.1 Solvers | 517.0 mb
The LSTC, an Ansys company, is pleased to announce the availability of LS-DYNA SMP R11.2.1 is an part of ANSYS software and it is a general purpose transient dynamic finite element program capable of simulating complex real world problems.
LS-DYNA
is a general-purpose finite element program capable of simulating complex real world problems. It is used by the automobile, aerospace, construction, military, manufacturing, and bioengineering industries. LS-DYNA is optimized for shared and distributed memory Unix, Linux, and Windows based, platforms, and it is fully QA'd by LSTC. The code's origins lie in highly nonlinear, transient dynamic finite element analysis using explicit time integration.
LS-DYNA consists of a single executable file and is entirely command line driven. Therefore all that is required to run LS-DYNA is a command shell, the executable, an input file, and enough free disk space to run the calculation. All input files are in sim­ple ASCII format and thus can be prepared using any text editor. Input files can also be prepared with the instant aid of a graphical preprocessor.
For large models, you can use the shared memory parallel processing (SMP) to shorten the elapsed time necessary to run an analysis. The shared memory parallel processing capabilities allow you to distribute model-solving power over multiple processors on the same machine.
LS-DYNA Tutorials for Beginners: Finite Element Analysis Hollow Cylinder Compression
About ANSYS, Inc.
If you've ever seen a rocket launch, flown on an airplane, driven a car, used a computer, touched a mobile device, crossed a bridge or put on wearable technology, chances are you've used a product where Ansys software played a critical role in its creation. Ansys is the global leader in engineering simulation. Through our strategy of Pervasive Engineering Simulation, we help the world's most innovative companies deliver radically better products to their customers. By offering the best and broadest portfolio of enginee
Founded in 1987 and headquartered in Livermore, California, LSTC is the premier provider of explicit dynamics and other advanced finite element analysis technology. LSTC's widely adopted solution, LS-DYNA, a highly scalable multiphysics solver, accurately predicts and simulates complex real-world problems for the automotive, aerospace, civil engineering, defense, manufacturing and biomedical industries, among others.
Once closed, the acquisition will enable ANSYS to significantly advance the existing integration of LS-DYNA into the ANSYS Workbench environment, providing ANSYS customers seamless access to an even wider range of advanced simulation technology. The combined companies' strengths in simulation for structures, fluids, electromagnetics, optics, safety and machine learning will deliver a powerful solution for autonomous and electric vehicles to global automotive manufacturers and their suppliers.
Livermore Software Technology Corporation (LSTC) has entered into a definitive agreement to be acquired by ANSYS, Inc.
Product:
LS-DYNA
Version:
SMP R11.2.1 Solvers (Non-GUI solvers run from the command line)
Supported Architectures:
x64
Website Home Page :
www.lstc.com
Language:
english
System Requirements:
PC / Linux
Size:
517.0 mb
Hardware Requirements

CPU: Intel Xeon Scalable 2nd generation (62xx/82xx), or AMD EPYC 2nd (7XX2).
Memory: max. speed with all memory channels equally populated, no need too large RAM, 8-16GB per core is recommended.
Disk: similar to CFD, LS-DYNA writes result files with time interval, usually doesn't dominate total elapsed time. Unless model size is large (10s million), regular NFS or SSD seems to be good enough.
Interconnect: low latency MPI is critical to run LS-DYNA MPP on multiple compute nodes, even with small count (2 to 4 compute nodes). InfiniBand (Mellanox, Intel) or RDMA Ethernet are highly recommended.
Please visit my blog
Added by 3% of the overall size of the archive of information for the restoration

No mirrors please