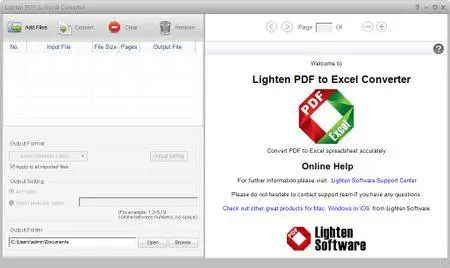 Lighten PDF to Excel Converter 6.0.0 Multilingual | 7.9 Mb
Manual data entry is tedious, you may spend hundreds of hours, not to mention the risk of error caused by manual typing. With Lighten PDF to Excel Converter for Windows, you can extract data from PDF to Excel with a high-level of accuracy automatically. Tabular data in PDF will be accessible and well formatted with original column structure in an Excel spreadsheet after conversion.
Accurate
Lighten PDF to Excel Converter extract data from PDF file with the information embedded in PDF, you don't have to worry about the accuracy of the data, just tweak the formatting a little bit and then you can easily handle data in Excel Spreadsheet. The output file can retain the original column structures well.
Flexible
Various of output methods available, you can choose whether you want to convert current page, all page, or even any particular page ranges; or convert pages into different sheet or put them all in one sheet in Excel; you can preserve the fonts style, color, size if you want, or just focuses on the data without formatting. It's all up to you. Aside from Excel, Lighten PDF to Excel Converter can extract data to a CSV file so that it can be uploaded into the information system, most of them support .csv format.
Mark Table Area Manually
Allowing users mark table area is another highlight function of Lighten PDF to Excel Converter. Table data could be extremely complex, it can detect table automatically for most of the table with borders; if the table does not have any borders or has complex layout, you can mark table areas, add rows and columns by yourself, or even merge or split cells for better accuracy before conversion. In this case, it can handle all kinds of table data, no matter how complicated they are.
Extremely Fast
You used to spend one or two hours entering data from a PDF file with many pages. Not any more with Lighten PDF to Excel Converter, it takes only a few minutes to convert a PDF file with hundreds of pages, and output accurate data. Also, you can throw as many PDF files as you want at one time.
System Requirements
Operating System: Microsoft Windows®10, 8, 7, Vista and XP (all editions)
Does not require Microsoft office and Adobe product installed
Recommended hardware Processor: 2GHz Processor RAM: 1G
Free Space: File Size: 6.43MB, 100MB recommended
Home Page
-
http://www.lightenpdf.com/