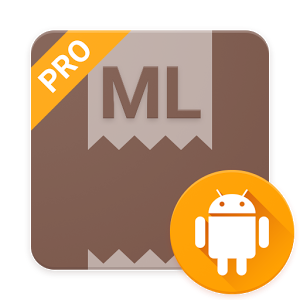 ML Manager Pro: APK Extractor v3.0 b66 | 4.7 MB
ML Manager Pro is a customizable APK manager for Android with root features: extract any installed app, mark them as favorite, share .apk files easily, uninstall system apps and much more.
FEATURES
• Extract and backup installed & system apps and save them as APK.
• Batch mode to extract multiple APKs.
• Organize your apps marking them as favorite.
• Share any APK with your contacts using Dropbox, Telegram, email, etc.
• Uninstall apps easily.
• Customizations available in Settings.
• No root required.
• Material Design.
PRO FEATURES
• Compact view, a stylish new design to show your apps.
• Hide apps from the device launcher. - Root required -
• Easily manage your hidden apps. - Root required -
• Uninstall system apps. - Root required -
• Remove cache per app. - Root required -
• Clean data per app. - Root required -
What's New
Introducing the biggest ML Manager update ever!
• Upload your APKs to APKMirror using ML Manager.
• Extract APKs in background: APKs will be extracted in background and a notification will be displayed instead of a dialog. You can enable "Always extract in background" in Settings too.
• ML Manager will auto-detects when an app has been installed from other store (Amazon App Store and Galaxy Apps).
• Pro users: "Compact" app layout has been improved and now includes an "Extract" button.
Requires Android:
4.1 and up