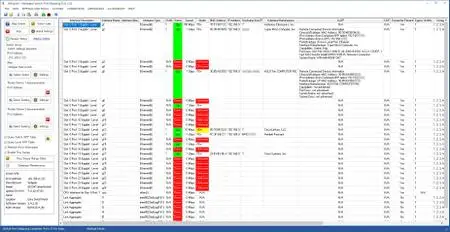 Managed Switch Port Mapping Tool 2.86.2 | 23.5 Mb
The Managed Switch Port Mapping Tool is software for Windows that discovers devices attached to port connectors on an SNMP managed network switch.
Managed Switch Port Mapping Tool Overview
The Managed Switch Port Mapping Tool is a Windows application designed to 'map' or discover information about a network switch's ports and report on the attached devices. It does this by accessing switch internal information using Simple Network Management Protocol (SNMP) over the network. SNMP access credentials must be provided in order to access the data in the switch. The amount of data retrieved depends on the extent of the switch manufacturer's SNMP implementation.
What information can we get from the switch?
The Managed Switch Port Mapping Tool can retrieve essential information needed by network administrators such as the port identification or naming, status, speed and VLAN assignments. See the MAC addresses of attached devices and optionally IP addresses and device hostnames. Need help with topology? we can display LLDP, CDP, Link Aggregation (LACP/LAG/IEEE802.3ad/PAGP) information recorded by the switch showing connectivity to devices, other switches or servers.
Switches can be manually mapped one at a time or in groups using Switch Lists
Switch mappings can be done manually from the GUI interface or through command line parameters on a scheduled basis using Windows Task Scheduler (the GUI will appear even if started from the command line). The results of every switch mapping are automatically saved into an SQLite database for later retrieval, searching or analysis. Results may be optionally saved to XML text files for independent analysis using spreadsheets.
Product Information
The Managed Switch Port Mapping tool communicates with managed Ethernet network switches using SNMPv1/v2c/v3 and discovers the MAC addresses and other information about devices attached to the physical port jacks on the front of the switches. The app requires Microsoft Windows® and can be also used on Apple MAC OSX if you use Windows inside a virtual machine like VMware Fusion or Parallels.
No switch is too big or too small, but it must be capable of being 'managed' using SNMP (simple network management protocol) and it must support certain MIBs. It's been used on switches as small as the Cisco SF 300-08 series all the way up to core switches like the Cisco 6500 series.
Simple to use: enter the switch IPv4 address and the SNMP v1/v2c/v3 read-only credentials. Then press Map Switch. We do the rest. Watch one of the videos to see it in action.
Results are presented in a spreadsheet-like grid. Print the results or export them to your favorite spreadsheet program as either tab-delimited text or as XML.
Available as an app installed on your hard drive or as a fully portable app that runs from a USB Flash Drive.
Features
Fast - supports SNMP v2c/v3 Bulk Transfer mode. This mode reduces required SNMP bandwidth.
Map Switches Manually one at a time or as a set of switches in a list.
Switch Lists - map a group or set of switches, record the mapping results in the History Database and optionally automatically export the XML results for each switch to files as the switch list is mapped.
History Database - all switch mappings are automatically saved here. Searchable. Review a switch mapping at a later time.
SNMPv1/v2c/v3 - supports USM access model SNMPv3 requests.
Command Line - run the app from the command line using various options. Use Windows Task Scheduler to map a switch or switch list when you need it mapped. (The GUI will appear if started from the command line)
Optional Columns - over 25 optional columns supporting RMON and Cisco packet related counters including overruns etc. Also columns reporting Voice VLAN, Trunking, Port Security (preceding are for Cisco switches only) and Assigned VLANs.
LLDP and CDP neighbor information are reported by the switch. See neighboring devices like other switches and routers connected to a switch port (if they have LLDP or CDP enabled).
Link Aggregation - LACP LAG (IEEE 802.3ad), PAGP and legacy HP Trunk links between switches or switches to servers are shown in the Type column and color coded for easy identification of the aggregation ports and their member ports.
Operating System:
Windows 10, 8.x, 7 32 or 64 bit editions (requires GUI, this is not a command line tool) - Windows server GUI editions will work too, but be aware that data is saved in separate user locations - different users cannot access the same data.
Home Page
-
https://www.switchportmapper.com/