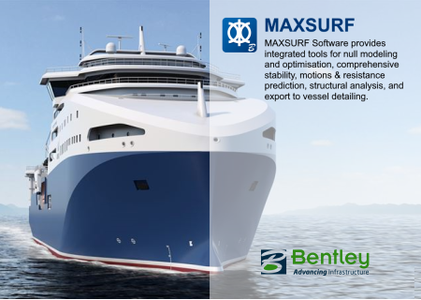 Maxsurf CONNECT Edition V23 Update 4 | 1.6 Gb
The MAXSURF development team is pleased to announce the release of Maxsurf CONNECT Edition V23 Update 4 (23.04.00.76). Visualize and optimize vessel designs with the complete set of integrated naval architecture tools in Maxsurf.
Maxsurf CONNECT Edition V23 Release Notes License consolidation
To simplify our licensing and offer you more streamlined access to our newest, most advanced capabilities, we are consolidating our MAXSURF offerings. Previous offerings including MAXSURF (basic) worksuite, MAXSURF Modeler Advanced, MAXSURF Stability Advanced, and MAXSURF Stability Ultimate(aka Enterprise*) will be deprecated. This leaves just the two worksuite licenses: MAXSURF Advanced or MAXSURF Ultimate (aka Enterprise*).
* The 'Enterprise' designation for the most capable edition has now been renamed 'Ultimate'.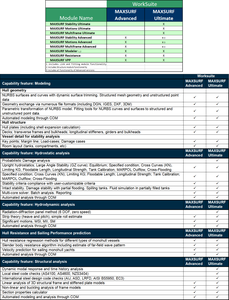 New features
In this release of MAXSURF there are several enhancements to the MAXSURF modules particularly relating to modeling with Trimeshes. These include:
- Modeler: Trimesh repair and enhanced Boolean operations.
- Modeler: Trimesh primitive shapes - box, cylinder, column.
- Modeler: Trimesh triangle selection tools.
- Modeler: Improved performance for large models with complex trimming.
- Stability: New heeling arm and criterion.
- Stability: User-customizable criterion text.
- Stability: Calculation of freeboard at each heel angle (GZ analysis).
- Stability: Calculation of immersion angled at each displacement (KN analysis).
- and numerous minor enhancements
Maxsurf CONNECT Edition V23.04.00 - Date: 3 December 2021Some highlights
In the 3D Perspective views, an option for automatically moving the view rotation centre to the middle of the screen has been added. This video highlights some enhancements we have made to the model rotation in the perspective window.
MAXSURF View Orientation in 3D Perspective Window
In Stability we have added the so-called Tow Tripping heeling arm used in IMO MSC.415(97) Intact Stability code 2008 Part B, Chapter 2, §2.8.2.2 and BV NR 476.E1 Part E, Chapter 1, Section 2, §2.3.4. Furthermore two new stability criteria have been added:
1. Angle of equilibrium is less that angle at which specified freeboard occurs as used in IMO MSC.267(85) Intact Stability code 2008 Part B, Chapter 2, §2.2.4.2 and NSCV Part C, Section 6A (Intact Stability) Chapter 7, §7.3.5.4
2. Angle of equilibrium is less that angle at which specified GZ occurs used in IMO MSC.415(97) Intact Stability code 2008 Part B, Chapter 2, §2.7.4.4 and BV NR 476.E1 Part E, Chapter 1, Section 3, §1.6.1.c
The Ratio of Angle of Equilibrium now includes a Key Point emergence option.
Know Issues
Unfortunately the following bug slipped in to this release: In MAXSURF Motions, some results files (.skr) may fail to load and cause Motions to hang. If you are able to successfully open the file and resave, then the problem will be fixed. Alternatively, to fix the problem, make a backup of your .skr file, then open the .skr file in a binary file editor and add about 10 NULL bytes to the end of the file. If you still encounter difficulties please send us the file and we should be able to fix it.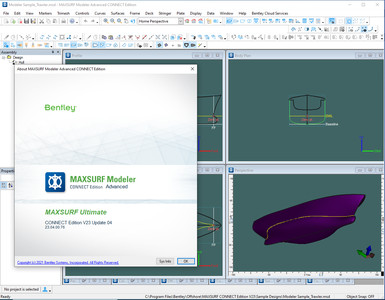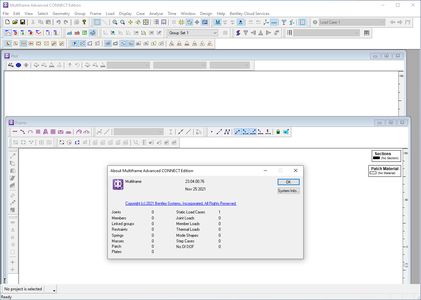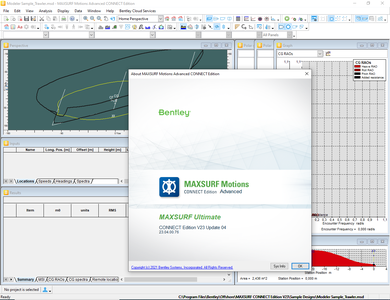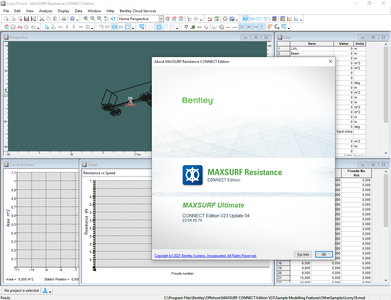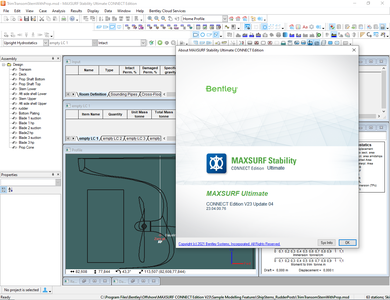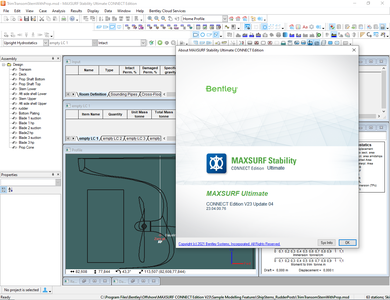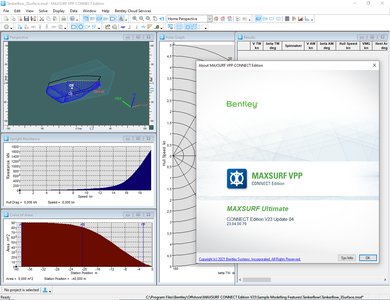 MAXSURF
offers comprehensive capabilities for the design of all types of marine vessels. Create fair hull shapes, comply with stability requirements, minimize power requirements, and ensure crew and passenger comfort in varying sea states. Minimize structural weight while ensuring scantling compliance through initial modeling and stress analysis of beam and plate structures.
MAXSURF applications operate from a single parametric 3D model that facilitates smooth communication and coordination among different team members and design activities.
MAXSURF Advanced
– Design, analyze, and optimize all types of marine vessels. Free your creativity with fast and convenient modeling of complex vessels using dynamically trimmed 3D NURB surfaces. Flexible data import, mesh modeling and automate curve and surface fitting enable you to quickly generate models for the analysis or modification of existing vessels. Enable your naval architecture team with a full range of tools for designing power, sail, commercial, and naval vessels made from steel, aluminum, wood, or composite materials.
MAXSURF Ultimate
– Comply with the most demanding requirements and design challenges by adding probabilistic damage stability; radiation diffraction panel method motions prediction; and dynamic, time domain, structural analysis to the already extensive range of features in MAXSURF Advanced.
Multihull Designs in MAXSURF
Bentley's MAXSURF software is used by naval architects worldwide for the design of all types of vessels; including many types of multihulls. MAXSURF software has been used at the forefront of multihull design since the first developments of the high-speed catamaran ferry market in Australia; and has worked in partnership with several leading Australian shipyards to deliver software which addresses some of the important considerations specific to multihull vessel design. The MAXSURF software, operating from a single parametric 3D model, streamlines the process across all phases of the vessel design workflow: from concept prototype, through initial design to detailed design layout. Whatever your application (high-speed ferry, offshore support vessel, semi-submersible, sailing catamaran or SWATH) attend this complimentary webinar to discover how MAXSURF software can be used to develop, analyze and optimize your multihull vessel designs.
Bentley Systems, Incorporated.
is the global leader dedicated to providing architects, engineers, constructors, and owner-operators with comprehensive architecture and engineering software solutions for sustaining infrastructure. Founded in 1984, Bentley has nearly 3,000 colleagues in more than 45 countries, $500 million in annual revenues, and, since 2001, has invested more than $1 billion in research, development, and acquisitions.
Product:
Maxsurf
Version:
CONNECT Edition V23 Update 4 (23.04.00.76)
Supported Architectures:
x64
Website Home Page :
www.bentley.com
Languages Supported:
english
System Requirements:
PC *
Size:
1.6 Gb
Please visit my blog
Added by 3% of the overall size of the archive of information for the restoration

No mirrors please