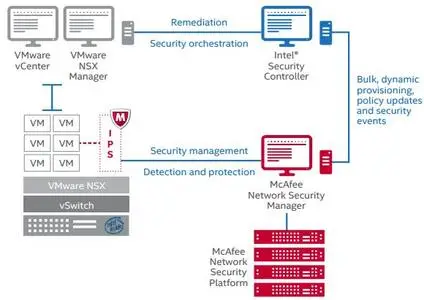 McAfee Network Security Platform Manager v9.2.9.5 | 1.09 GB
McAfee Network Security Platform is a next-generation intrusion prevention system (IPS) that redefines how organizations block advanced threats.
Block more intrusions than ever before
Stop new and unknown attacks with signature-based and signature-less inspection. Signature-less intrusion detection technology allows the IPS to identify malicious network traffic and stops never-before-seen attacks for which no signatures exist.
Unify cloud and physical security
Support for VMware NSX and OpenStack allows organizations to unify security across physical and virtual networks. Support for network virtualization in VMware NSX allows administrators to scale security with virtual workloads in private clouds as they are created and moved. Virtual solutions protect public cloud workloads in Amazon Web Services (AWS) and Microsoft Azure environments.
Maximize security and performance
Built around a cutting-edge hardware platform that scales to speeds over 320 Gbps, and a Security Connected approach that leverages data from multiple products, we provide the intrusion protection and visibility you need.
Flexible deployment options
Support for McAfee Threat Intelligence Exchange delivers real-time threat awareness across both physical and virtual networks. Integration with McAfee Advanced Threat Defense and McAfee MOVE AntiVirus empowers organizations to automate advanced security to the software-defined data center.