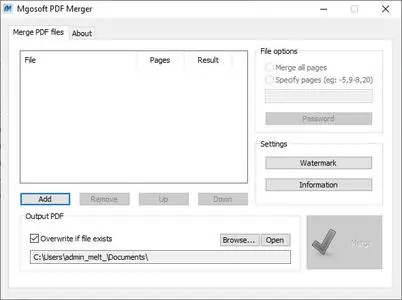 Mgosoft PDF Merger 9.4.3 | 4.4 Mb
Mgosoft PDF Merger is a simple, stand-alone application that lets you combine two or more Acrobat PDF files into a single PDF document. Mgosoft PDF Merger provides numerous alternatives for special merge methods that allow you to combine documents and document parts in a number of different ways to make your work more effective. Mgosoft PDF Merger does NOT require Adobe Acrobat, and produces documents compatible with Adobe Acrobat Reader Version 5 and above.
Key Functions:
Standalone program. Does NOT require Adobe Acrobat or Reader.
Merge multiple PDF files or selected pages from one or more files into a PDF file;
Generate a new PDF file by merging one or more PDF documents;
Preserve all kinds of annotations;
Supports "owner" password protected PDF files
Supports "user" password protected PDF files (requires inputting password)
Allow to set PDF Meta properties like Title, Author, Subject and Keywords.
Very easy to use
Use it on all Windows version including the latest builds of Windows 10;
Supported Operating Systems:
Microsoft Windows XP/Vista/7/8/10 of both 32-bit and 64-bit.
Home Page -
http://www.mgosoft.com/