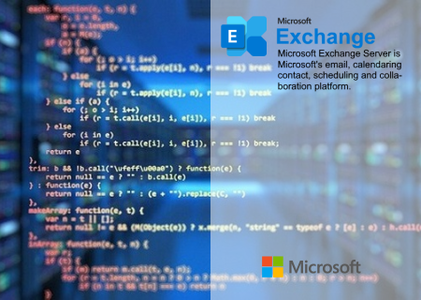 Microsoft Exchange Server 2016 CU23 | 1.9 Gb
Languages Supported: 中文-Simplified, 中文-Traditional, English, Español,
Deutsch, Français, Italiano, 日本語, 한국어, Русский
The Microsoft development team is pleased to announce the availability of Cumulative Update 23 to Exchange Server 2016. This update includes fixes for nonsecurity issues and all previously released fixes for security and nonsecurity issues.
Cumulative Update 23 for Exchange Server 2016 (KB5011155)
Cumulative Update 23 for Microsoft Exchange Server 2016 was released on April 20, 2022. It includes fixes for nonsecurity issues and all previously released fixes for security and nonsecurity issues. This update also includes new daylight saving time (DST) updates for Exchange Server 2016.
New features in this cumulative update
- To prevent misuse of UNC paths by attackers, parameters that take UNC paths as inputs will no longer be usable in Exchange Server PowerShell cmdlets or the Exchange Admin Center. For more information, see the following Knowledge Base article:
5014278 Changes in Exchange Server PowerShell cmdlets and Exchange Admin Center for UNC path inputs
This cumulative update also fixes the issues that are described in the following Microsoft Knowledge Base articles:

5012757 "Migration user… can't be found" error when using Start-MigrationUser after batch migration fails
5012760 You can't access OWA or ECP after installing the July 2021 security update
5012761 External attendees see "Send the Response Now" although no response was requested in Exchange Server
5012765 Email stuck in queue starting from "2022/1/1 00:01:00 UTC+0" on all Exchange on-premises servers
5012768 Start-MigrationUser and Stop-MigrationUser are unavailable for on-premises Exchange Server 2019 and 2016
5012774 Can't change default path for Trace log data in Exchange Server 2019 and 2016
5012779 Invalid new auth certificate for servers that are not on UTC time zone
5012780 Disable-Mailbox does not remove LegacyExchangeDN attribute from on-premises Exchange 2019
5012781 Exchange Server 2019 and 2016 DLP doesn't detect Chinese resident ID card numbers
5012782 MS ExchangeDiagnostic Service causes errors during service startup and initialization in Microsoft Exchange 2019 5012783 Can't restore data of a mailbox when LegacyDN is empty in the database
5012784 Exchange 2016 CU21 and Exchange 2019 CU10 cannot save "Custom Attributes" changes in EAC
5012786 Forwarded meeting appointments are blocked or considered spam
5012787 Download domains created per CVE-2021-1730 don't support ADFS authentication in OWA
5012789 Can't use Copy Search Results after eDiscovery & Hold search
5012791 MailboxAuditLog doesn't work in localized (non-English) environments
5012829 Group metrics generation fails in multidomain environment
Exchange Server 2016
includes a number of advanced features for organizations to have a resilient deployment of email across multiple customer sites. It is closely integrated into other products such as Office, SharePoint, Skype for Business (formerly Microsoft Lync) and Office 365, and it shares a similar interface to Exchange Server 2013.
Many of the features in Exchange 2016 were first deployed in the cloud with Office 365 before coming to the on-premises version of Exchange. However, some features such as Clutter won't be included because they require Office Graph to work.
Exchange 2016 includes improved features and capabilities from previous versions of Exchange. These include a faster database availability group (DAG) failover time, which dropped from about 30 seconds to about 18 seconds, and a 22% lower input/output operations per second (IOPS) from Exchange 2013.
Exchange 2016 combines the mailbox and Client Access Server (CAS) roles, which should allow for simpler designs and architecture. It also includes support for BitLocker to provide additional protection for data at rest as well as enhancements to support hybrid Exchange setups.
Exchange team veteran Greg Taylor explains how the on-premises version of Exchange 2016 benefits from the proven cloud-based features and functionality of Exchange Online.
Microsoft Corporation,
leading developer of personal-computer software systems and applications. The company also publishes books and multimedia titles, offers e-mail services, and sells electronic game systems, computer peripherals (input/output devices), and portable media players. It has sales offices throughout the world.
Product:
Microsoft Exchange Server
Version:
2016 CU23 (15.01.2507.006)
Supported Architectures:
x64
Website Home Page :
www.microsoft.com
Languages Supported:
multilanguage
System Requirements:
Windows *
Size:
1.9 Gb
Please visit my blog
Added by 3% of the overall size of the archive of information for the restoration

No mirrors please