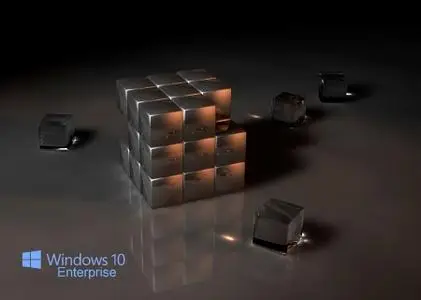 Microsoft Windows 10 Enterprise LTSC 2019 version 1809 Build 17763.253 | 3.5 Gb
The Microsoft product team is pleased to announce the availability of Windows 10 Enterprise LTSC 2019 version 1809 (Build 17763.253). This update includes quality improvements. No new operating system features are being introduced in this update.
Windows 10 release history - version 1809 (OS build 17763.253):
Improvements and fixes.
- Addresses an issue that affects PowerShell remoting loop back using non-administrator accounts. For more details, see Windows Security change affecting PowerShell.
- Addresses an issue in which using esentutl /p to repair a corrupt Extensible Storage Engine (ESE) database results in a mostly empty database. The ESE database is corrupted and cannot be mounted.
- Security updates to Microsoft Edge, Internet Explorer, Windows App Platform and Frameworks, Windows MSXML, Windows Kernel, Windows Storage and Filesystems, Windows Wireless Networking, Microsoft JET Database Engine, Windows Linux, Windows Virtualization, and the Microsoft Scripting Engine.

About Microsoft Windows 10 LTSC.
An LTSC release is a different Windows 10 release. LTSC updates arrive every two to three years. They're more like a Windows 10 IoT releases (formerly known as "Windows Embedded"). Microsoft just recommends LTSC use for devices that can't tolerate frequent updates, such a medical devices. Microsoft strips out components that are frequently updated from LTSB releases, such as the Microsoft Edge browser and "in-box" apps like Cortana and Mail. Microsoft also is planning to block the use of Office 365 ProPlus on any Windows 10 LTSC release, starting on Jan. 14, 2020, so it really doesn't want businesses to be using it.
Nottage listed 14 reasons why using the LTSC model would be a bad approach for organizations to use. A few of those points stood out, namely:
- LTSC does not keep pace with new silicon releases in the same way SAC does – so LTSC 2016 does not support Intel chips beyond the "Kabylake" generation
- No support for Surface hardware
- LTSC does not support ConfigMgr Express Updates
- In-Place Upgrade from Windows 7 to Windows 10 is not supported for LTSC
- LTSC does not keep pace with feature enhancements to Windows Defender ATP [Advanced Threat Protection]
- Potential Independent Hardware and Software Vendor support and limitations on LTSC
- Non-security operating system fixes and enhancements may not get back-ported to LTSC
While it's possible Microsoft had communicated these details in its rather extensive Windows-as-a-service documentation, overall, these points seem to be new explanations about why LTSC shouldn't be used by organizations.
In general, Microsoft has also been saying that LTSC isn't for organizations wanting to use it with Microsoft Office or Office 365 ProPlus productivity suites.
About Microsoft.
Microsoft Corporation, leading developer of personal-computer software systems and applications. The company also publishes books and multimedia titles, offers e-mail services, and sells electronic game systems, computer peripherals (input/output devices), and portable media players. It has sales offices throughout the world.
Product:
Microsoft Windows
Version:
10 Enterprise LTSC 2019 version 1809 Build 17763.253
Supported Architectures:
x64
Website Home Page :
www.microsoft.com
Language:
english
System Requirements:
*
Size:
3.5 Gb
Minimum:

- Processor: 1 gigahertz (GHz) or faster processor or SoC
- RAM: 2 gigabyte (GB) for 64-bit
- Hard disk space: 20 GB for 64-bit OS
- Graphics card: DirectX 9 or later with WDDM 1.0 driver
- Display: 800 x 600

Included:

* Windows 10 Enterprise 2019 LTSC X64 OEM en-US JAN 2019
* Version 1809 Build 17763.253

[ RELEASE INFO ]

* File: LTSCX64.2019.ENU.JAN2019.iso
* Size: 3,50GB
* Format: Bootable ISO

* SOURCE: dvd-74865958

* CRC32: 7dc161bc
* MD5 : a07852c3673a6d27d0e7c67e15057ca5
* SHA-1: 8aa2df3c0bfe5f2a097535ffd1d6c8897695eb63

[ CONTENTS ]

Integrated / Pre-installed:

* Servicing Stack Update:
* KB4470788
* CumulativeUpdate:
* KB4480116
* Cumulative Update for
* .NET Framework 3.5 and 4.7.2:
* KB4480056
* Flash Player Security Update:
* KB4480979

SetupComplete / Post-install:

* .NET Framework 3.5
* Defender Updates

* LANGUAGE: ENGLISH US

[ EDITIONS INCLUDED ]

* Windows 10 Enterprise 2019 LTSC - STD
* Windows 10 Enterprise 2019 LTSC - KMS
* Windows 10 Enterprise 2019 LTSC - OEM

* STD = Standard installation - For those with own License Key
* KMS = Activated by KMS38
* OEM = Manufacturers logo, wallpaper etc + Activated by KMS38

[ FEATURES ]

* UEFI-ready
* (Use attached Rufus USB-tool to make UEFI-bootable).
* Diagnostics and Recovery Toolset 10.0 (Microsoft DaRT)
* install.wim compressed to recovery format (install.esd)

[ INSTALLATION & INFORMATION ]

* Create bootable USB (highly recommended) with Rufus,
* (attached) or burn to DVD-R at slow speed.
Please visit my blog
Added by 3% of the overall size of the archive of information for the restoration

No mirrors please