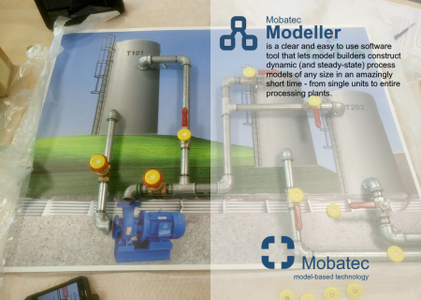 Mobatec Modeller 4.15192 | 139.3 mb
The Mobatec development team is pleased to announce the availability of Mobatec Modeller 4.15192 is a clear and easy to use software tool that lets model builders construct dynamic (and steady-state) process models of any size in an amazingly short time - from single units to entire processing plants (resulting in more than 50.000 equations).
The process modelling methodology implemented in
Mobatec Modeller
is based on the hierarchical decomposition of processes into networks of elementary systems and physical connections. This process modelling software combines two approaches to modelling: equation based modelling and flowsheeting. This makes it an advanced process modelling software which is best described as an Equation Based Flowsheeter.
Equation based (white box) modelling is flexible, as users can create custom tailored models to their own needs resulting in a high fidelity simulations. Conventionally equation based modellers require a programming language, used by the user to transform (code) the model equations into lots of lines of code in order for solver to solve the model. This code is not transparent, and even experienced users need time to use, modify or improve existing models. With Mobatec Modeller no knowledge of code (programming) is required, equations are written almost as on paper and the code is generated automatically by the software.
Mobatec video tutorial
A series of short tutorial videos where the main actions to perform in Mobatec Modeller to create a model and run a dynamc simulation are shown.
Mobatec
is specialized in process modelling of any kind of process. We constantly expand our range of development tools and technologies. Our experts have the knowledge to give special attention to your process modelling needs.
Product:
Mobatec Modeller
Version:
4.15192
Supported Architectures:
x64
Website Home Page :
https://www.mobatec.nl/
Languages Supported:
english
System Requirements:
Windows *
Size:
139.3 mb
Please visit my blog
Added by 3% of the overall size of the archive of information for the restoration

No mirrors please