Multiboot DVD-ROM to work, backing up and repairing the hard drive partitions, treatment of viruses, the dumping of "forgotten" passwords, etc. are based on the following projects: Acronis BootCD Reanimator 6.2009, Hiren's Boot CD 10.1, Alkid Live CD full.
WARNING!
Disc is not placed and executed from the operating system! Exception is Startup Tools from the Hiren's Boot CD.
What is new in version 5.0:
- Hiren's Boot CD 10.1 (in version 5.0: Hiren's Boot CD 10.0)
- Alkid Live CD & USB MultiBoot 2009-12-21 (in version 5.0: Alkid Live CD & USB MultiBoot 2009-11-11)
- DrWeb Live CD from 27.12.2009 (in version 5.0: DrWeb Live CD from 12.11.2009)
MultiBoot DVD v6.0 CONTAINS:
1. Alkid Live CD full of 21 December 2009 - without any changes
Universal boot disk (CD / DVD / USB) to work and restore the system. Supports all media - CD, flash drives, USB-HDD …
Contains a set of fresh anti-virus, utilities for disk and images, backup and lifting systems, restore lost information and passwords, creating new administrator accounts, return to the point of rollback, your system info and etc. Works with SATA disks and RAID arrays, mounts a volume Linux, provides a rich set of networking and SATA / SCSI / RAID drivers.
2. Hiren's Boot CD 10.1 - en banc (Keyboard otpatchena for the Russian language)
Hiren's BootCD - stunningly competently and professionally assembled, the most popular boot "all-in-one" disc, literally everyone, including системщиков and administrators for repair work on the computer. With its small size, contains a large quantity of the best world-class programs that do almost everything for "pulling out" of the data and return your computer to life, identifying and testing different devices PC and meets the highest requirements. Also includes anti-virus software with the ability to update databases, anti-spyware, programs to work with the disk: formatting, partition, repair, testing, etc., the cloning system, a block of data recovery after the collapse of Windows, the tools to identify hardware, work with the BIOS, and much more .
3. Acronis BootCD Reanimator 6.2009 - in full, except for Windows Key Enterprise 8.3.2867 RU - removed due to nesovmetimosti Alkid Live CD, but also because of the disk is Active @ Boot Disk Suite, which allows you to work with passwords.
Boot disk for backup and Restoring hard drive partitions.
Contains the program:
Acronis ® Backup & Recovery ™ Worstation 10.0.11105 EN with Universal Restore - a new generation of products Acronis. Designed for the protection of intellectual property, which is in desktops and laptops. It creates an exact disk image of your computer and creates backup copies of the operating system, applications, files and folders. The simplified system is restored. User mozhett perform self-service without administrator intervention. Even the whole system of Windows can be restored in minutes.
Acronis ® True Image Home 2009 12.0.9769 EN (full + safe) - allows you to backup and restore data to a gesture of disk, including operating system, applications and all user documents: pictures, videos, emails, etc. The effectiveness of the program Acronis True Image Home 2009 is confirmed by many prestigious awards, which is not surprising - the product not only protects your files, but also allows them to recover after a virus attack, hardware and other failures is literally one click. Create a complete copy of the hard disk for a few minutes, or just to save critical data and recover them even faster.
Acronis ® Disk Director Server 10.0.2169 RU (full + safe) - provides powerful tools for managing hard disks and partitions, ensure reliability and performance of your servers. This program is based on received numerous awards technology company Acronis ®, enables you to manage partitions and format the hard drive.
Memtest86 2.11 - testing the computer's memory for errors Screenshots: Victoria 3.52s RU - program is intended for testing, diagnostics and servicing IDE and Serial ATA drives. Works with the drive at a low level (through the ports of the controller) and thanks to built-in operating system is fully autonomous.
MHDD 4.6 - a software package for quick and accurate diagnosis and minor repair HDD. MHDD will help get rid of the so-called «software bad sectors» to the maximum available rate.
Added: HDD Regenerator v1.71; HDD Regenerator v1.61; HDD Regenerator v1.51. HDD Regenerator - the unique program to restore the hard drive.
4. LSoft Technologies Active @ boot disks and floppy disks:
A set of boot disks and diskettes to solve problems with a computer's operating system.
Active @ Boot Disk Suite 4.1.8 Windows Edition - bootable CD / DVD drive to solve problems with your computer's operating system.
5. DrWeb Live CD on 27/12/2009
Dr.WebR LiveCD - it is an antivirus solution to restore the system shown in inoperable by the actions of viruses or any malicious software.
Acknowledgments:
Hiren - for his tremendous drive and regularly updated.
Alkidz - for his very good and regularly updated CD.
The developer drive Acronis Boot CD Reanimator.
Checksums:
CRC32: 34F1A133
MD5: 69BA91E1D173408C08C0B86D33B65EA7
SHA-1: C8949F4165DDCE3487268095C3E8518733D86417
Year: 2009-12-27
Version: 6.0
Developer: afin
Platform: Windows NT/2000/XP/Vista/Linux
Compatibility with Vista: Yes
Language: Russian + English
Tabletka: Not required
Size: 1.4 GB
Screenshot: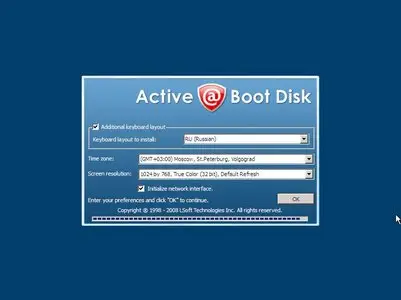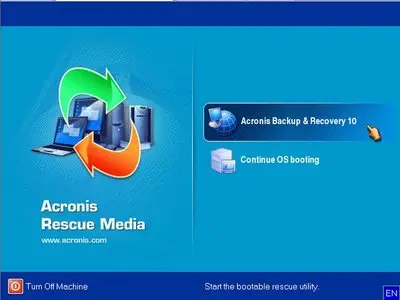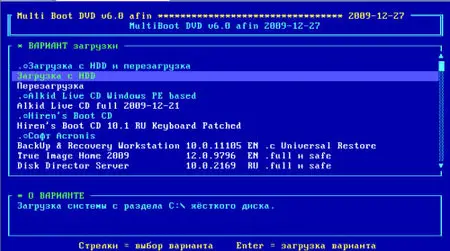 Download:
http://hotfile.com/dl/22022437/80c6d19/MultiBoot_2009_12_27.part1.rar.html
http://hotfile.com/dl/22022702/192ceda/MultiBoot_2009_12_27.part2.rar.html
http://hotfile.com/dl/22022447/60f84e4/MultiBoot_2009_12_27.part3.rar.html
http://hotfile.com/dl/22022693/42841c7/MultiBoot_2009_12_27.part4.rar.html
http://hotfile.com/dl/22022448/0cca452/MultiBoot_2009_12_27.part5.rar.html
http://hotfile.com/dl/22022716/fa6fb6c/MultiBoot_2009_12_27.part6.rar.html
http://hotfile.com/dl/22022436/3f18e80/MultiBoot_2009_12_27.part7.rar.html
http://hotfile.com/dl/22022528/1e4a1ad/MultiBoot_2009_12_27.part8.rar.html

Mirror:
http://extabit.com/file/27a1y4ygwtz24
http://extabit.com/file/27a1y4ygwtz30
http://extabit.com/file/27a1y4ygwtz3g
http://extabit.com/file/27a1y4ygwtz3w
http://extabit.com/file/28xvbun0fh9ac
http://extabit.com/file/28xvbun0fh9as
http://extabit.com/file/28xvbun0fh9bo
http://extabit.com/file/28xvbun0fhis4

Mirror:
http://uploading.com/files/2dc45dc3/MultiBoot_2009_12_27.part1.rar/
http://uploading.com/files/m1e66a8m/MultiBoot_2009_12_27.part2.rar/
http://uploading.com/files/281m5m3d/MultiBoot_2009_12_27.part3.rar/
http://uploading.com/files/9d3eb3f9/MultiBoot_2009_12_27.part4.rar/
http://uploading.com/files/7m564bma/MultiBoot_2009_12_27.part5.rar/
http://uploading.com/files/bd94dc11/MultiBoot_2009_12_27.part6.rar/
http://uploading.com/files/a1a5cmd4/MultiBoot_2009_12_27.part7.rar/
http://uploading.com/files/1d6e7c99/MultiBoot_2009_12_27.part8.rar/

Mirror:
http://rapidshare.com/files/326612919/MultiBoot_2009_12_27.part1.rar
http://rapidshare.com/files/326615058/MultiBoot_2009_12_27.part2.rar
http://rapidshare.com/files/326611991/MultiBoot_2009_12_27.part3.rar
http://rapidshare.com/files/326612746/MultiBoot_2009_12_27.part4.rar
http://rapidshare.com/files/326610964/MultiBoot_2009_12_27.part5.rar
http://rapidshare.com/files/326612191/MultiBoot_2009_12_27.part6.rar
http://rapidshare.com/files/326613018/MultiBoot_2009_12_27.part7.rar
http://rapidshare.com/files/326609559/MultiBoot_2009_12_27.part8.rar