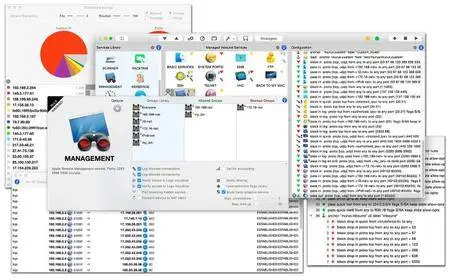 Murus Pro Suite 1.4.18 (include Vallum 3.0.1) macOS | 80 MB
It's main purpose is to speed up network firewall configuration and testing, using a simple interface. Filtering and networking options can be set dragging and dropping icons, changing their order, and selecting check boxes. There is no need to learn code syntax or to type strange commands. Everything is managed by visual elements like buttons, collections, graphics, leads.
Murus Pro:
Designed with ease of use in mind, yet full of advanced options and monitoring tools, Murus is perfect for everybody; from the average user to the experienced UNIX guru/system administrator and even for educational purposes.
Configure and start the PF firewall in one click using built-in presets, use Murus graphical ruleset editor design tool or write fully customized rulesets using the advanced rule editor.
- Protect your Mac using tools already built into OS X
- Unleash the hidden power of PF, the OS X packer filter
- Easy firewall configuration using the Wizard
- Create firewall rules managing graphic objects
- Visualize PF configuration using simplified layers of abstraction
- Powerful custom rules system lets you create fully customized PF rulesets
- Access a very large set of advanced networking features and options including bandwidth management
- Deploy PF configuration to a large number of Macs with one mouse click
Vallum
Vallum is a little tool that helps you monitor and block application connections. It is able to intercept connections at the application layer, and hold them while you decide whether to pass or block them. Vallum's interface is very simple and is icon-based. Its default configuration is not intrusive, and it does not require any interaction or specific networking knowledge or skills. Just drag an app's icon from the Finder into the main Vallum window to block it. To change Vallum's attitude and interaction level, you just have to play with the very few options available. Intercept apps that leak data on the network, drag apps' icons to create firewall rules, run the firewall with one mouse click: Vallum is friendly, it stays in a corner of your Mac's menu bar on top of the screen, it does not pollute your Dock and your desktop, it features a simple interface that everybody can use, and it's powerful because it lets you create complex setups with jails, mixed rules, notification pop-up alerts, and temporary rules, at both application- and network-level interacting with Murus and the OS X built-in PF packet filter.
Features :
Increase your privacy, intercept apps that leak data on the network
Drag and drop apps icons to create firewall rules, run the firewall with one mouse click
Be notified of hidden network activities, discover what happens behind the scene
Simple interface, no need for special networking knowledge, everybody can use it
Choose between different levels of interactions or run a completely silent firewall
Work at both application- and network-level to gain full control of your Mac
It's friendly: it stays in a corner of your Mac's menu bar on top of the screen, it does not pollute your dock and your desktop. One click to install, one click to uninstall
It's powerful: create complex setups with jails, mixed rules, temporary rules, at both application- and network-level
It respects your privacy, it does not phone home or leak any kind of data on the network
Buy once for life, all updates and upgrades will be free
Requirements:
OS X 10.9.4 or later
Home Page
-
http://www.murusfirewall.com/