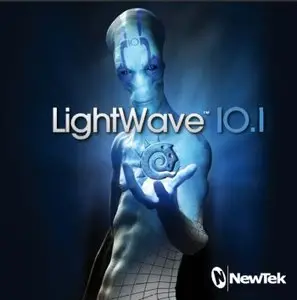 NewTek LightWave 3D 10.1.2161 32bit & 64bit | 227.0 mb & 235.5 mb
NewTek LightWave is the backbone of fast, efficient 3D pipelines. Day in and day out, LightWave artists deliver stunning graphics and animation-on time and on budget. LightWave artistry is everywhere, from blockbuster feature films and primetime television, to the cover of the Rolling Stone. And, more Emmy Awards for visual effects and animation sit on the mantels of LightWave artists than any others. Cool, Huh?
About NewTek, Inc.
Much of the desktop video revolution can be traced in the history of NewTek. Since founding NewTek in 1985, visionary Tim Jenison has led the way in the design of a series of groundbreaking products, and continues to guide the company in pioneering innovative and affordable tools for computer-generated animation, video, and film special effects.
Since its inception, NewTek has been a driving force in pushing the edge of video and 3D graphics technology, while redefining price, performance, and ease of use. NewTek is perhaps best known in the film and video industry, as the company that created the desktop video market segment in 1990, with the introduction of its wildly successful product, the Amiga Video Toaster. In 1993, NewTek, its founder, Tim Jenison, and this revolutionary product were presented with an Emmy® Award for Technical Achievement. In 2003, NewTek was again presented with an Emmy for LightWave 3D's seminal role in the revolution of CGI visual effects, over the preceding decade. NewTek has built its success on the concept of providing powerful, intuitive products at prices that are very affordable.
About NewTek LightWave 3D 10
NewTek LightWave 10 delivers a whole new set of groundbreaking tools for 3D artists everywhere. Whether you work alone or play well with others, LightWave 10 has the tools you need to turn your dreams into gorgeous graphics and amazing animation for film, television, print, design … or simply to satisfy your desire to create something really cool. LightWave 10 gives you more speed, flexibility and control, along with new, interactive tools that let you model, render and animate, quickly and affordably. Plus, LightWave artists have won more Emmy® Awards for visual effects and animation than any other CG artists. Now that's cool.
LightWave 10 benefits artists with unique, new capabilities not found in any other 3D application, like an off-axis stereoscopic camera rig option that supports all three of the major stereoscopic camera rig types; instant feedback from the Viewport Preview Renderer (VPR), with support of clip maps in the VPR render; the option to include or exclude models, morphs, animations, cameras and lights, upon export; advanced import and export capabilities, including COLLADA, FBX, MDD, and integrated Autodesk Geometry Cache support; the ability to import joints as LightWave bones for greater compatibility; new support for .ICC/.ICM monitor profiles; an awesome Skin Shader node, and more. Plus, LightWave artists have won more Emmy Awards for visual effects and animation than any other CG artists. Now that's cool.
LightWave 10 Modeler and Layout, with an updated and refined user interface, deliver extensive new data interchange tools that provide seamless integration into multi-application pipelines. LightWave 10 also includes NewTek's next generation CORE technologies.
NewTek Releases LightWave 10.1 with New Stereoscopic Features and Interactive Production Workflow:

New Features Provide Impressive Results
LightWave 10.1 enhances creativity with new stereoscopic features that provide access to all major stereo camera rigs, and the ability to dynamically correct for toe-in distortion in the animation pipeline. Additional stereo enhancements include interactive OpenGL off-axis adjustment of the right and left camera planes, click-and-drag convergence point adjustment in the viewport, and the ability to disable the anaglyph representation of the stereo camera in OpenGL. Also in LightWave 10.1, interocular and convergence points can be dynamically animated over time to track stereo changes within a shot.
The LightWave VPR allows artists to directly interact and easily adjust lights, textures, volumetrics and more, within the viewport. Artists can also use the VPR to view updates, quickly deliver realistic, environmental walkthroughs, and perform virtual location scouts. LightWave 10.1 extends the functionality of the VPR with the support of clip maps in the VPR render, the addition of object and distance dissolve, and improved nodal shaders like the new Skin material node that works with the VPR. The Skin Shader node uses a proprietary model for subsurface scattering for an easier method of replicating realistic skin textures.
LightWave 10.1, with integrated Autodesk Geometry Cache Support gives artists the ability to include or exclude models, morphs, animations, cameras and lights, upon export. Other workflow features in LightWave 10.1 offer the ability to import joints as LightWave bones for greater compatibility with other programs; multi-threaded mesh evaluation optimization and sub-d mesh freezing acceleration; linear color space workflow improvements, including new support for .ICC/.ICM monitor profiles, and more. Additional LightWave 10.1 features include:
- Virtual Studio Tools-supports InterSense Virtual Camera Tracking System (VCam) and 3Dconnexion SpaceNavigator 3D mouse, allowing interaction with models and scenes in real time
- FiberFX-hair and fur shader now supports VPR and includes improved speed, stability and displacement handling
- Linear Color Space Workflow-supports custom Look Up Tables (LUTs) for more realistic lighting and compositing flexibility, color space correction for HyperVoxels, XYZ, Lab, RGB and CMYK data, and more
- Updated User Interface (UI)-interactive channel sliders, added control for custom colors, and numerous workflow enhancements deliver a more dynamic user experience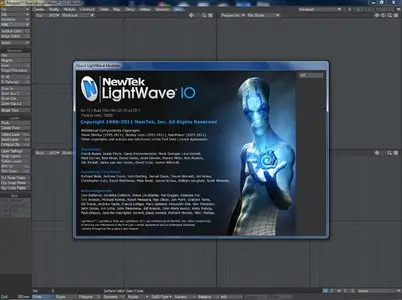 visit my blog
Name:
NewTek LightWave 3D
Version:
10.1 Build 2161 32bit & 64bit
Creator:
www.newtek.com
Interface:
english
OS:
Window XP / Vista / Seven
Size:
227.0 mb & 235.5 mb
NewTek LightWave 3D 10.1.2161 32bit
Скачать | Download c filesonic.com
Скачать | Download c letitbit.net
Скачать | Download c depositfiles.com
Скачать | Download c vip-file.com
NewTek LightWave 3D 10.1.2161 64bit
Скачать | Download c filesonic.com
Скачать | Download c letitbit.net
Скачать | Download c depositfiles.com
Скачать | Download c vip-file.com
No mirrors please