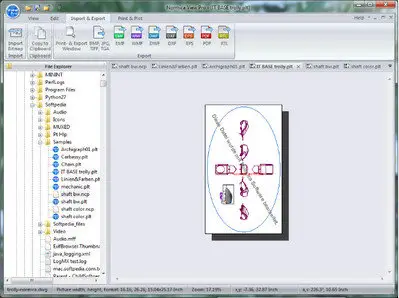 Normica View Pro v2.0.2.6 | 12.84 Mb
Normica View Pro is the ideal software system for processing CAD plot-data and bitmaps; a precise and convenient editor for CAD and DTP. With Normica View Pro drawings can be presented on a laptop and printed on any Windows system printer.
Normica View Pro saves on resources.
Drawings can be checked and corrected independently from the CAD system before they are printed. Changing paper size, object size, pen widths and colors, rotation and draw order with Normica View Pro greatly simplifies the adaptation of drawings for any purpose. Normica View Pro may reduce file size up to 50% and speeds up plotting time up to 200%.
Normica View Pro is versatile.
Data generated with Normica View Pro can be integrated into all standard word processing, DTP and Internet applications. You receive an exact rendering of your technical drawings in any media. What you see is what you get!
Normica View Pro is fast.
The efficient zoom options, the rapid screen refresh, and the exact display of HP-GL/2 data files make extremely precise results possible, fast.
Normica View Pro improves your images.
Photographs, drawings and renderings can be imported into CAD plot-data, greatly enhancing the visual aspect of your work. Support of transparencies extends your analytical capabilities.
Main features of Normica View Pro:
•Reads and writes HP-GL/2 files (HP-RTL, HP-GL, partly PCL5).
•Reads Bitmaps (BMP, TIFF, JPEG, etc.) and writes plotter independent HP-GL/2 (HP-RTL).
•Tuning of plot file properties as pen speed, quality level, chordangle, etc.
•Opens any required amount of files.
•Automatic display of tooltips window when cursor is placed over object.
•Zoom functions on the right mouse key with real-time zoom and pan.
•Up to four viewports.
•Saves and reconstructs sections of drawings.
•Changes line properties such as: pen widths, colors (RGB) and numbers, end cap and line-joints.
•Placement of objects in foreground or background.
•Rotates and mirrors drawing or objects.
•"Intelligent" enlargement and reduction using the DTP scale.
•Pen fadeout feature.
•Assigns new pen number to any selectable object.
•Importation and coordinate as well as free positioning of BMP, TIFF, JPEG, TGA and other raster data.
•Bitmaps can be joined, merged, shifted, clipped, rotated, mirrored, scaled, copied, or exported. Brightness, contrast, and many more can be changed using the bitmap manager. Changes bits of raster data (from 24 bit to 8 bit, form 8 bit to 1 bit, etc.).
•Objects can be made transparent.
•Crosshair cursor, display of absolute and relative coordinates as well as distance.
•Display of file properties.
•Comfortable page layout.
•Clear, easy to use documentation.
•Exports entire drawings or defined sections.
•Copies to the clipboard.
•Export to convenient developed PDF and EPS exports.
•Export to WMF and EMF formats with pen widths and bitmaps.
•Export to DWF (Drawing Web Format) with pen widths, bitmaps and optimized quality.
•Export to DXF (Drawing eXchange Format) for CAD and graphic use.
•Export into Bitmaps (BMP, TIFF, JPEG, TGA).
•Print/plot preview and freely definable print and export windows.
•Plotting through network and TCP/IP (Internet).
•RTL RIP
•Prints drawings using any Windows system printer in any scale.
Home Page:
http://www.normica.com