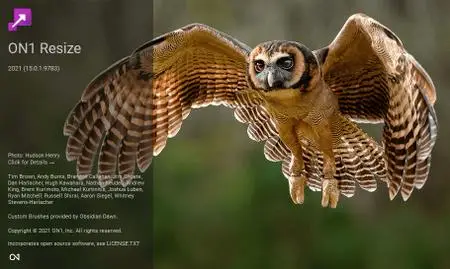 ON1 Resize 2022 v16.0.1.11481 (x64) Multilingual Portable | 251 MB
ON1 Resize 2019 is the ultimate image resizer for when you need the highest quality enlargements - with Genuine Fractals® technology -to resize your photos for print. You can quickly resize photos without loss of sharpness or detail. ON1 Resize 2019 also includes one of the fastest ways to view, cull, and edit photos - ON1 Browse. It's the new starting point for your editing and resizing workflow.
Tools for Printing Big!
Get the highest quality photo enlargements with Genuine Fractals® technology - patented, fractal-based interpolation algorithms - that quickly enlarge your images without loss of sharpness or detail.
Genuine Fractals® Technology
Patented, fractal-based interpolation algorithms - that quickly resize images without loss of sharpness or detail. Enlarge photos up to 1000%!
Create Canvas Wraps
The gallery wrap feature creates extended margins for wrapping your photo around wooden stretcher bars for canvas prints. You have the option to either stretch or reflect the areas near the edge of your photo. Create a perfect gallery wrap and not lose any part of the photo.
Setup to Print on Mosaic Tiles
Divide photos into mosaic tiles for easy printing and proofing. Perfect for creating canvas diptychs, triptychs, or mosaics when combined with the gallery wrap feature.
Print Presets
Hundreds of presets for desired print size.
Full ON1 Browse
Resize 2019 includes the full Browse module from ON1 Photo RAW 2019. It's a lightning-fast browser and organizer. Simply point it to any folder of photos and you can preview, sort, tag, and change metadata instantly!
Better Batch Processing
The Export feature in Resize 2019 makes it easy to process a single photo, a handful or hundreds of them. Not only can you control the size, but the file type, naming, location, etc. You can even apply gallery wrap or watermarks on the fly.
New RAW Engine
Resize 2019 features the new RAW processing engine from ON1 Photo RAW. It's much faster and maintains better color and detail.
Compressed Photoshop Files
When saving out Adobe® Photoshop® PSD format files, they are compressed to half the size they used to be, losslessly.
Printing Options
You can print from right inside of Resize 2019. Control the paper size, margins and printer profiles for the ultimate print.
Open System
Access your photos no matter where they are stored: your computer, your network, or on cloud-based storage services.
Plug-in & Standalone
ON1 Resize 2019 works as both a plug-in for both Photoshop® and Lightroom® and as a standalone application.
Accelerated Photo Management
ON1 Resize 2019 includes everything photographers need to both browse and catalog photos from the very beginning of the workflow. This hybrid system provides one of the fastest ways to manage and organize photos. The ultra fast photo browser is perfect for quickly viewing and culling through photos without having to wait on an import process. Once the culling process is done, the ability to create and catalog those photos is the next step in most common workflows.
System Requirements:
- Windows 7, Windows 8, or Windows 10 (current maintenance releases, 64-bit only)
- Intel Core 2 Duo, Xeon, or better
- 1.5 GB for installation
- Photoshop CS6 or CC, Photoshop Elements 13 or 14, Photoshop Lightroom 5, 6, or Classic CC, Apple Photos
- 4 GB (8 GB when used as a Photoshop plug-in)
- OpenGL 3.3-compatible video card with 256 MB video RAM, 1280x720 resolution
Homepage
-
https://www.on1.com
Language:
Multilingual