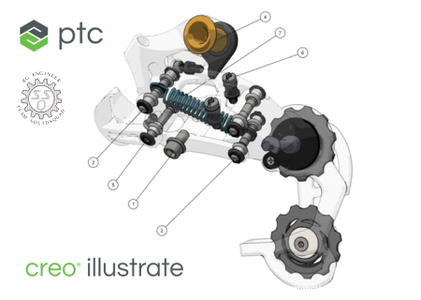 PTC Creo Illustrate 7.1.1.0 | 442.8 mb
Languages: 中文 (Simplified), 中文 (Traditional), English, Deutsch, Français,
日本語, 한국어, Español, Русский
The software developer PTC Creo is pleased to announce the availability of Creo Illustrate 7.1.1.0. With this solution, you can create rich 3D technical illustrations, 2D drawings, and interactive animated sequences that accurately reflect current product configurations and support formats from hard copy to augmented reality.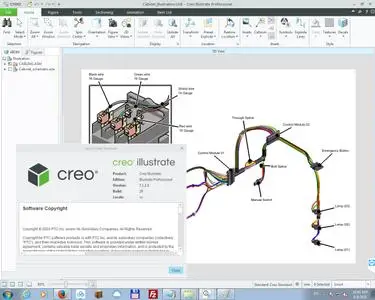 Creo Illustrate
enables you reuse CAD data to generate interactive, animated 3D technical illustrations that communicate complex service information easily and accurately. The 3D illustrations you create can be saved and published in a variety of 2D and 3D graphic formats. The 3D illustrations you create in Creo Illustrate can be set to update automatically when the source CAD changes—and they are easy to share across the enterprise.
PTC Creo Illustrate Demonstration
PTC was founded in 1985
and is headquartered in Needham, MA, USA. It was formerly known as Parametric Technology Corporation and changed its name to PTC . in January 2013. It is a leading software company in the domains of product lifecycle management (PLM), Internet of things (IoT) and augmented reality (AR). The company operates in two segments: software products and professional services.
PTC delivers innovative solutions that changes how products are created and serviced across the entire product lifecycle. Apart from PLM, IoT and AR, the company also provides solutions in the CAD and Service Lifecycle Management (SLM).
Product:
PTC Creo Illustrate
Version:
7.1.1.0 Build 29
Supported Architectures:
x64
Website Home Page :
www.ptc.com
Language:
multilanguage
System Requirements:
PC *
Size:
442.8 mb
Hardware and Operating System Requirements

You create illustrations from imported CAD files. The hardware requirements partly depend on the type and size of the CAD files you import. Hardware drivers not updated by the manufacturer in the last four year smay not meet the needs of Creo Illustrate.

The minimum requirements are sufficient for small-sized or average-sized files. For optimum performance, meet these recommended specifications:

Random access memory(RAM)
Minimum Requirement: 2 GB
Recommended Specification: 3 GB to 8 GB
Central processing unit (CPU) or Core
Minimum Requirement: Single-core, 1-GHz x86 Intel compatible
Recommended Specification: Dual-core or greater, 2-GHz x86, 64-bit Intel compatible
Disk space
Minimum Requirement: 1 GB for a 64-bit platform
Recommended Specification: 2 GB for the installation. Additional disk space for data
Operating system
Minimum Requirement: Windows 10
Recommended Specification: Windows 10 64-bit
Please visit my blog
Added by 3% of the overall size of the archive of information for the restoration

No mirrors please