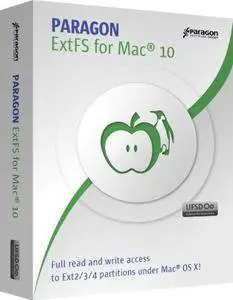 Paragon ExtFS 10.1.109 | MacOSX | 12.1 MB
Paragon ExtFS for Mac 10 is a low-level file system driver which was specially developed to bridge file system incompatibility between Linux and Mac. ExtFS for Mac provides full read/write access to ExtFS formatted drives under OS X.
Full read and write access to Ext2/3/4 partitions under mac®OS
- As easy as pie! Just install and access any ExtFS partition under macOS
- Data transfer rate similar to OS X native file system performance
- Checks and repairs Ext2/3/4 volumes. Creates/formats Ext2/3/4 volumes
- Supports macOS 10.12 Sierra
Based on Paragon UFSD™ (Universal File System Driver) technology, this driver provides fast and transparent access to Ext2/3/4FS partitions as if it were part of the native Mac operating system environment, thus achieving an unprecedented high level of performance (similar to HFS+). macOS programs can process these Ext2/3/4FS partitions without any restrictions and can browse contents, read and modify files, copy and create new files and folders, etc.
Easy to install and to use
The driver is easily installed by a user-friendly wizard. It automounts any Ext2, Ext3, Ext4 FS drives right after installation as if it were part of the native macOS file system.
High Performance
You can store and create files larger than 4 GB with full read and write access to Linux-formatted partitions. Data transfer rate is similar to the performance of the native macOS Extended file system.
Advanced support of HFS+ and ExtFS
Advanced support for the HFS+ and ExtFS file system features guarantees data consistency (Hardlinks, Symlinks, etc.)
Home Page
-
https://www.paragon-software.com/