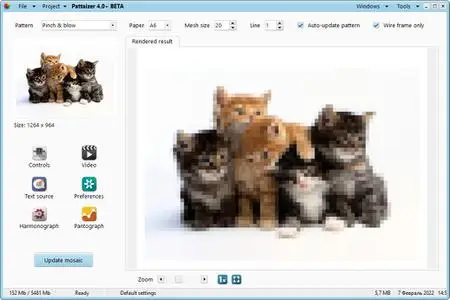 Pattaizer 4.1.1.3 Multilingual Portable | 71 Mb
Pattaizer creates patterns. It features 22 different pattern approaches which can be tuned and varied by the user. It includes brick and Ministeck® patterns can be made (mosaics) and lissajous patterns can be created with Harmonograph and Pantograph geometries. Each pattern has several control parameters to create that unique effect that you are looking for. You could try to learn how to use Photoshop (days?), but Pattaizer does it for you. In seconds.
AMAZING PATTERNS
Pattaizer is a software painting tool. It does not replace the skill of many people to draw, paintbrush, sketch and paint. It is a tool for people who like to do it different, and create their own colourful painting. When your personal piece of art has amazed your family and friends when they ask 'is it real?' then you are satisfied. That's all it takes: amaze and be inspired by the possibilities of this simple application.
AUTOMATED AND MANUAL
Pattaizer offers both fully automated pattern creation and manual creation. Try automation first, and then switch to manual pattern creation, like to spirograph or free drawing. You don't need to be educated in art. You need a good tool that does it for you. Is it real? We believe it does: you made your own piece of art with love and intensity. That's all it takes to be a proud owner of a true painting.
PATTERN ART
When the right combination of source picture colours, pattern type, settings and a bit of luck your piece of art would match those in museums. Why not. You can either spend hours of creativity with a brush and paint, or use the perfect tool to amaze people. A lot of professional artists would turn away from such a fake approach. But you know better. It looks great and you made it yourself.
MECHANICAL ART
There are two tools available to simulate mechanical pattern generators: the harmonograph and the pantograph. Both are cabable to create stunning effects. You can make your own harmonograph from wood and steel (great fun) but you can also use Pattaizer to test the possibilities. And then build one yourself after all. The pantograph is also based on a mechanical contraption, translated into mathematical formulae. Seems dull, but it amazes every time you create a new pattern.
Operating System: Windows 7, 8/8.1, 10, 11
Home Page
-
https://www.apphelmond.com/