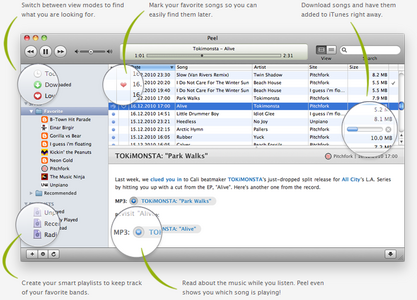 Peel v2.0 Mac OS X | 2.9 MB
Never miss a hot track again! Peel is an MP3 blog reader and player rolled into one. Subscribe to your favorites blogs and stream music the minute it becomes available!
What are MP3 blogs?
Also known as musicblogs or audioblogs, MP3 blogs have become increasingly popular since the beginning of 2003. According to Wikipedia an MP3 blog is a type of weblog in which the blog creator makes music files (usually in the MP3 format) available for download.
New Interface
Peel 2.0 has been thoroughly redesigned and sports a totally revamped interface.
Smart Playlists
Create your own smart playlists based on a genre, band, date or even file size.
Organize
Keep Peel organized by grouping different types of blogs.
Playlists
Create your own playlists and add your favorite tracks.
Last.fm
Peel supports last.fm so you can keep a record of the tracks you play.
Shortcuts
Bind your own global shortcuts so you can always have Peel at your fingertips.
Homepage:
http://www.getpeel.com/