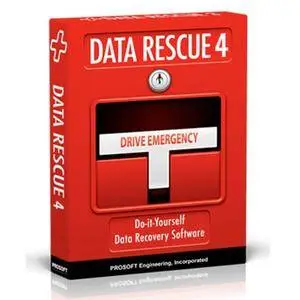 Prosoft Engineering Data Rescue 4.0.161011 + Live CD | 513.3 MB
Award-Winning Data Recovery Software For PCs. Data Rescue PC is the #1 Rated Gold Award Winner for PC Recovery Software by TopTenReviews, Editor's Choice by PC Magazine and has a 5 star rating at Amazon.
Data Recovery Software To Recover Missing or Deleted Files
- Recovers deleted, damaged, and lost files
- Rescues reformatted and non-mounting drives
- Works on crashed, corrupted, and erased drives
- SSD and RAID compatible
- All purchases include a digital download to start your recovery immediately
Why Do I Need A PC Recovery Software?
If you have lost files on your PC it is usually because of one of these reasons:
- Files were deleted
- Files were lost
- Files were damaged
- Hard drive was reformatted
Data Rescue is the PC data recovery software you need for recovering files from any of these common scenarios.
Is Data Rescue PC Difficult To Use?
No way, it's easy! The road to file recovery is only 3 steps long:
- Select a device to recover your data from
- Choose the type of data recovery scan to run
- Pick the files you would like to recover to your secondary storage device
Easily And Safely Recovers Deleted Files From All PCs
- Works on all PC hard drives even if they fail to mount or only partially operate.
- Works if your hard drive is corrupt due to viruses, errors or operating system failure and you can't access files from it.
- Digital picture recovery from your camera media even after it has been erased or reformatted.
- Recovers all file types from any hard drive.
- Recover your entire hard drive or just the files you need.
- Use the drive-cloning tool to make a scanable clone of your primary hard drive (creates a byte-by-byte copy of your drive that you can scan independent of your hard drive).
- Bootable emergency data recovery CD – No need to install.
System Requirements:
- Windows 7/Windows 8/Windows 8.1/Windows 10
- To prevent your files from being overwritten, Data Rescue requires you to have a second hard drive to recover to.
- Data Rescue cannot recover an ethernet or WiFi connected hard drive.
Big Thanks to: "sledge101" who makes this release possible!
Home Page
-
https://www.prosofteng.com/