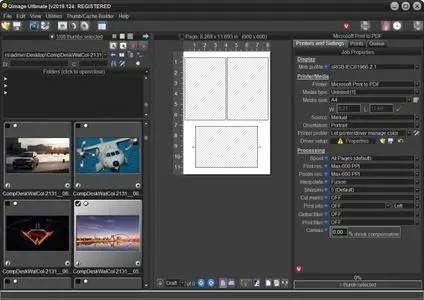 Qimage Ultimate 2022.106 | 21 Mb
Qimage Ultimate is the most advanced photo printing software in the world. With two decades of experience and innovation in photographic printing, it is the most frequently recommended batch photo printing software and is used by everyone from casual shooters to professional photographers. Our 21st Anniversary Edition offers a streamlined UI that simplifies all of your print nesting jobs!
Expensive RIPs, Step Aside!
Qimage Ultimate competes with RIPs costing thousands. Our proprietary printing technology achieves unparallelled sharpness and gradients comparable to specialized 16 bit drivers on any printer, even those that don't support 16 bit printing! From small to wide format jobs, Qimage Ultimate is the answer!
Features You Need:
- Use stand-alone or print directly from Photoshop, Lightroom, or Elements
- Full color management (color spaces and printer profiles)
- Optimal quality with incredibly smooth gradients (on all 8 or 16 bit drivers)
- Automatic interpolation to your printer's native PPI
- Proprietary Deep Focus Sharpening (zero halo artifacts)
- Automatic/flexible print nesting - print any combination of sizes per page
- Job logging (recall any previous print job at any time)
- Image databasing (simple data entry/search)
- Image editing tools including raw photo support
- Print unclog tool - schedule purge patterns to print while you are away
Operating System:
Windows 7, 8/8.1, 10
Home Page
-
http://www.ddisoftware.com/
Language:
English