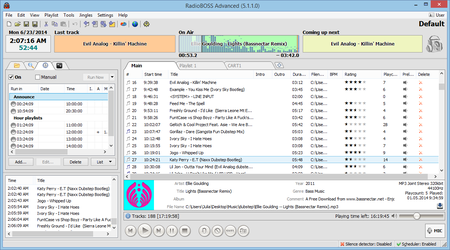 RadioBOSS Advanced 5.6.0.5 Multilingual | 36 Mb
RadioBOSS radio automation software provides professional radio programming engineering and automation at a fraction of what other applications cost. If you're creating programming for a terrestrial or Internet radio station, RadioBOSS lets you build sophisticated playlists with the professional features you need. RadioBOSS is also a simple to use solution to create background music for a wide range of venues: clubs, bars, restaurants, gyms and health clubs. With RadioBOSS, you can quickly create the right background music for your business and RadioBOSS will run unattended and trouble-free for months at a time.
RadioBOSS is used at radio stations, clubs, hotels, shops and casinos all over the world.
Key features of "RadioBOSS":
support for mp3, wma, wav, ogg, CD audio formats
plugins to support other file formats (AAC, FLAC, …)
automatic generation of playlists using templates
retranslation is possible
the ability to run an internet radio station
indexed music database that supports quick search capabilities
the level of advertisements and announcements is increased
you can work with two playlists simultaneously
built-in effects: echo, reverb, flanger, tempo, pitch
WinAMP and DirectX (through AdaptX) plugins are now supported
12-band equalizer
crossfade support
voice track feature
automatic volume control – all files are played at the same volume
trimming silence at the beginning and at the end of the track
the program takes advantage of the multichannel cards (4.0, 5.1, 7.1 etc)
two independent outputs: stereo split; splitting to channels on multichannel cards; using two sound cards
flexible scheduling capabilities
color indication in playlists (jingles and advertisements are highlighted)
file converter (mp3->wma)
CD grabber
support for profiles (individual configuration for each user)
tag editor that supports any file type
comments that can be added to any track
the "playlist in playlist" feature
Home Page
-
http://www.djsoft.net/