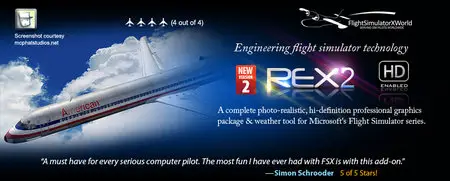 Real Environment Xtreme V2 (Upgrade) for FSX | 90 Mb
REX consists of an ultra-realistic breakthrough in simulation analysis, comprising a vast assortment of NEW, never been seen, graphical content based on PHOTO-REALISTIC elements. This technology combined with our brand NEW Weather Engine and Flight Planner, will enhance your complete sky environment, water environment (including real-world coral & reef simulations), airport environment, lighting environment and weather environment. Real Environment Xtreme Features:
– User-friendly intuitive and visually pleasing interface
– Full-featured NEW built-in Weather Engine (Built on Real Life meteorological algorithms using synoptic, meso-scale, and micro environment weather formulas for Real and Custom weather)
– Flight Planner (Ability to create and file a Flight Plan using true to life flight requirements)
– Hi-definition, ultra-realistic photo-real 3D clouds (stratus, wispy, cumulus and highly realistic rendering of cirrus clouds as seen in the real world)
- Sky color environments (Includes smoothing horizon transition & visibility smoothing for dawn, day, dusk & night)
– Convincingly real water environments with tropical reef simulation (end user color controllable, including tropical with reef simulations, inland and ocean, wave turbulence/frequency, environment variants & coloring. Also new realistic type of wave and reflection included in many variations for shader 1x and shader 2x INCLUDING DX10 Compatible)
– Airport environments (photo-real asphalt & concrete runway textures, new runway and ground bump-mapping, asphalt taxiways, concrete taxiways, realistic taxiway markings, airport signage, airport parking and general photorealistic airport ground scenery)
– Multiple variations of sun, lens flare & brand NEW lightning bolt algorithms, which creates a visually stunning array of lightning situations
– Fully integrated to select Sky, Cloud, Water, Airport, and Effect Themes based upon weather situation, season, and other synoptic, meso-scale, and micro weather conditions
– Enhanced Cloud Simulation to give a more 3D volumetric feel to cloud structures and the atmosphere
– Lighting environments (runway lighting including simulated ground glow, stunningly realistic aircraft spotlights with variations for small to large aircraft, aircraft strobe lights, variations for add-on aircraft as well)
– 3d cloud & water resolution options for performance preference
– Flexibility to work in tandem with other vendor weather & texture packages
Note: Don't try to use the Rex20_Update.exe because it won't work. All you have to do is copy all files to your REX 1.0 folder and you have full version 2.0 of REX. Of course, this is only the upgrade you need to have REX 1 installed already.