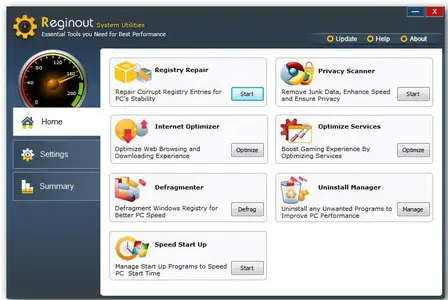 RegInOut System Utilities 4.0.0.2 | 2.1 Mb
RegInOut 4.0 ensures that no unwanted data is left in registry database that becomes the cause of errors, lags, freezes and slowdown in general performance. RegInOut 4.0 comes with powerful performance boosting options such as Services Manager, Defrag and System Cleaner. Periodic use of these features keeps any machine in good health.
RegInOut 4.0 provides an automatic Internet Optimizing feature. It will make sure that the internet you get from your service provider comes to use at the maximum speed. RegInOut 4.0 with all these features essentially turns your machine into an "Optimal Gaming Machine". To fix errors and speed up computer gaming experience apply the "Extreme Gaming Profile" in Services Manager option of the RegInOut System Utilities. RegInOut 4.0 is a Junk Cleaner. It provides this feature to ensure privacy to your activities along with boosting the performance of your system.
Getting Started
The main user interface is simple and easy to use. On the left side of the screen there are navigation options to start using all the features of RegInOut Registry Cleaner and PC Optimizer.
Registry Repair
You can check/uncheck registry categories to customize your scan. RegInOut will remember the user settings for custom scan. Along with scanning many different registry errors RegInOut also scans for invalid "Program Shortcuts". The "Start Scan" button lets you to perform a scan for selected categories.
Privacy Scanner
System Cleaner in RegInOut Registry Cleaner and PC Optimizer will only clean the junk files present in your system and causing your computer to run slow. By removing this trash safely through RegInOut you will noticeably speed up your computer.
Browser Cleaner/Privacy Cleaner
This option will help you to delete browsers cookies, cache, internet history and download history. Browser cleaner will allow you to optimize browsing as well as clean out unnecessary data. You can also secure internet privacy through cleaning important information saved in the web browsers. However, Bookmarks are the URLs saved by users and they are, therefore, not removed through the browser/privacy cleaner function in the RegInOut. Similarly the browser cleaner will not delete your passwords. However, if you are on a shared computer you may want to erase the saved passwords from the web browsers.
Defragmenter
Registry in the Windows operating system is a compact database which stores information in a structured way about all the computer programs, softwares and hardwares. With daily computer usage the size of Windows registry grows and it becomes disorganized. The registry defrag function in RegInOut allows you to reorganize and restructure your Windows Registry so that the computer runs faster. Note: While you are about to defrag your Windows registry it is important that you have turned off all other running Windows applications.
Backup/Restore Screen
RegInOut Registry Cleaner and PC Optimizer is embedded with an automatic backup utility. The backup function in the software creates a backup of the Windows registry before fixing it. By clicking the restore button your computer will revert to an older state. RegInOut makes a backup of registry keys which are removed during the Registy Scan. The backups created by the software are easy to sort out. A backup list is displayed along with the date and time it was created. A user can easily choose to select any backup/restore option from that list.
Speed Start up
The start up manager in RegInOut Registry Cleaner and PC Optimizer software allows you to manage the start up items. The start up items are those software programs and services which start with the Windows start up. Too many programs running during the start up can slow down the Windows start. By using this utility you can enable/disable any program from the list. Similarly you can remove a program appearing in the list.
Internet Optimizer
Internet Optimizer will allow you to optimize browsing and speed up your internet. Using this feature you can adjust your internet for best performance. If your connection is Fast (over 1 mbps) and you are using ADSL2, Fiber Connection, fast cable modem or Satellite connection then Choose 'Fast' (first option). When your connection speed is average (1 mbps or lower) and you are using DSL, EDGE, slow cable Modem or Satellite connection then click on Average. And if your connection is slow (128 kbps or lower) and you are using dial-up, ISDN or GPRS connection then select Slow (option 3). You can also restore your default settingS by using Restore Default button. To use Internet Optimizer click on it in the left navigation and then select your Internet Speed and click on Analyze button.
Optimize Services
Reginout offers you another interactive feature that is Service Manager. Click on Service Manager in the left navigation and select the service that you want to Start, Restart, Remove, Refresh. You can change the properties of any service and set it to to start either manually or automatically. This lets you easily tweak up your system and speed up Windows (7, Vista or XP startup/boot time) There is a button "Optimize Services" in this feature. By clicking this button a new pop-up Windows will appear which will allow you to optimize your computer services for various types of computers/profiles.
Uninstall Manager
RegInOut version 4.0.0.1 has a new feature named as "Uninstall Manager." This feature deals with system services to uninstall un-wanted applications. It makes uninstall process quicker and easier. Uninstalling unnecessary applications improves system performance. Users can select an unnecessary application from Uninstall Manager list and then click Uninstall button to remove it from system.
Options
There is an Options button at the top right side of the main software. This contains tools to manage the software settings. There are following three sub-options:
Settings / Ignore List / Scheduling
You can do the following things under general settings:
1.Start Software with Windows start up.
2.Set restore point before registry repair
3.Automatically repair registry items after scan.
4.Check for software updates on application start up.
5.Automatically shutdown application after registry repair.
Home Page
-
http://www.reginout.com/
No mirrors please