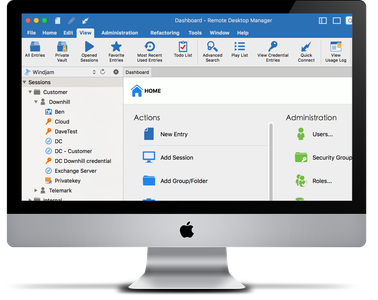 Devolutions Remote Desktop Manager Enterprise Edition v5.3.2.0 macOS | 128 MB
Remote Desktop Manager (RDM) centralizes all remote connections on a single platform that is securely shared between users and across the entire team. With support for hundreds of integrated technologies — including multiple protocols and VPNs — along with built-in enterprise-grade password management tools, global and granular-level access controls, and robust mobile apps to complement desktop clients for Windows and Mac, RDM is a Swiss Army knife for remote access.
RDM empowers IT departments to drive security, speed and productivity throughout the organization, while reducing inefficiency, cost and risk.
Centralize, Manage and Secure Access to Remote Connections
IT departments are responsible for managing and controlling access to an ever-growing inventory of on-site and off-site servers, computers and devices. Yet relying on multiple remote connection tools and password managers is inefficient, frustrating and unsecure. Instead of being treated to streamlined clarity, IT pros, sysadmins and help desk technicians struggle with ongoing chaos. The solution is to centralize remote connection technologies, remote machine data, password management, and access control on a platform that is secure, scalable, and refreshingly simple to use.
Remote Connection Management

Automatically Launch Connections
Launch highly secured and direct connections to privileged sessions, including remote servers, virtual machines and other critical assets.
Supported Technologies
Supports the most extensive list of technologies, including RDP, SSH, VPNs, Web, VNC, Telnet, ICA/HDX, ARD, TeamViewer, ConnectWise Control and LogMeIn.
Easy Session Sharing
Easily and securely share all your remote sessions across your entire team.
Password Management

Centralized Password Vault
Store all your passwords and credentials in a secure repository. Login everywhere using Devolutions Web Login.
Administrative Password Sharing
Securely manage and share administrative passwords throughout your organization.
Private Vault
User-specific repository that allows each user to have privileged accounts that only they can access.
Secure Access to Critical Assets

Account Brokering
Credentials are brokered on behalf of the user when launching a connection, preventing the user from ever knowing the credentials.
Role-Based Security System
Granular protection access control. All restrictions are predefined and enforced by a role-based security system.
Two-Factor Authentication
Enforce two successive steps of authentication to grant access to the data source. 2FA options are integrated directly in the software.
IT Team Solution

Data Sources
Supports a large number of data sources allowing for easy database sharing, such as SQL Server, MariaDB, Devolutions Server and many more.
Multiple Repositories
Store and organize entries in an unlimited number of repositories to easily manage massive numbers of entries, documents and other sensitive data.
User Administration
Define user's role with selective permissions and delegate users to these roles for a granular and effective management.
Ease of Management

Mobile Access
Launch sessions, manage your desktops and servers and retrieve passwords on the go with the mobile application.
Offline Access
Access and launch your sessions even when there is no internet connectivity. The offline is a writable copy of your database that is as secure as the online version.
Console
Integrated virtualization consoles, such as Hyper-V, Terminal Server and XenServer, delivering quick overview of machine state and enabling management tasks.
Audit and Reports

Audit Trail
Monitor, verify and analyze the time spent by a user on a specific client or a machine for audit purposes.
Activity Log
Record the information about when, what and who performed an action on a session. Monitor all opened sessions for all users.
Real-Time Connection
Know exactly who is connected in real-time for several types of sessions. Verify if a user has connected and receive a warning before connection.