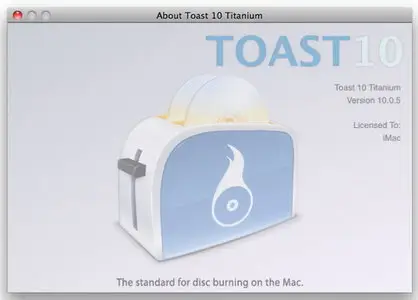 Roxio Toast Titanium 10.0.5 (incl. HD & BD Plugins) MacOSX
2009 | incl. All S/N | DMG | 412 MB
Toast Titanium goes way beyond the very basic burning in the Mac OS and iLife software, and sets the standard for burning CDs, DVDs, and now Blu-ray discs on the Mac. Create superior sounding audio CDs with smooth crossfades and transitions. Enjoy your TV shows anywhere with exclusive TiVoToGo and EyeTV burning. Convert and export video for an iPod, PSP, mobile phone, and more. Burn files of any size, and automatically catalog the contents of your discs. Copy your audio CDs, movies and DVDs.
Burn
* Toast has been the standard for burning and ease of use for over 10 years. It's the easiest and fastest way to burn your music, video, photo and data files on to CD, DVD or Blu-ray Disc™ for both Mac and PC. Learn More
Copy
* Toast makes copying discs a snap. With one-click disc copy, you can copy** CDs, DVDs and Blu-ray discs. Even copy dual layer DVD-Video discs on to affordable 4.7 GB single-layer discs. Learn More
Listen
* Expand your MP3 library. From LP and tape conversion to streaming Internet audio capture, Toast 10 helps you automatically capture, tag and add streaming music tracks to your iTunes® library. Learn More
Watch
* With just a few clicks you can locate, convert and burn your favorite shows, music and data to CD, DVD and Blu-ray discs, or sync to your iPhone™, iPod® and other mobile devices.
WHAT'S NEW in Version 10.0.5:
• Resolves issue importing some FLV (Video for Adobe Flash) which is incorrectly authored or contains non-standard metadata
• Resolves issue where some AVCHD source video experienced AV sync issues after conversion or authoring
• Improved interoperability with Turbo.264 hardware H.264 encoder
• Resolves issue burning Sparse Images
• Use of mouse scroll wheel no longer opens additional dialogs
• Resolves issue that may cause Disc Utility (Mac OS X v10.6 only) to show burned discs as damaged
Operating System Requirements:
This product is designed to run on the following operating systems:
• Mac OS X 10.5 Intel
• Mac OS X 10.5 PPC
Burn and Convert QuickTime and other file formats including:
* Audio: AAC, AIFF, MP3, WAV, M4A, OGG, FLAC and Dolby® Digital AC-3
* Video: AVCHD, AVI, DV, MOV, MPEG-1/2/4, VOB, VIDEO_TS folder, shared iMovie® projects, EyeTV recordings and TiVoToGo™ transfers
* Photo: BMP, GIF, PDF, PSD, PNG, TIFF
* Images: ISO, BIN/CUE, IMG, DMG, CDR, NRG
P.S.:
- To broadcast on the iPhone, put the client from AppStore
http://itunes.apple.com/us/app/roxio-streamer/id299380681?mt=8
- HD video authoring functionality for DVD and Blu-ray Discs™ requires the High-Def/Blu-ray Disc Plug-In.
This Plug-Ins & S/N - see in archive!