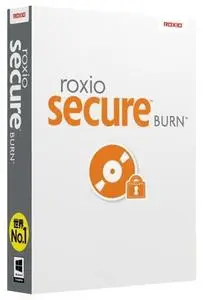 Roxio Secure Burn 4.2.56.4 Multilingual REPACK | 53 Mb
Bring a new level of security to your organization with Roxio Secure Burn, the solution designed to ensure confidential information is always protected on CDs, DVDs and USBs. With powerful administrative controls and a convenient drag-and-drop workflow for users, it's crucial for building a fail-safe security environment.
Remove the risk from removable media
- New! WinZip compression technology
- New! Encrypt to multiple USB drives simultaneously
- New! Set master passwords and groups
- Enhanced! Read Controls
- Enhanced! Write Controls
- Enhanced! Network Deployment
Powerful administrative tools
Set and enforce security policies with administrative tools that can be tailored to your organization's security needs. Customize settings for individuals or groups, and monitor activity as required.
Seamless for users
With drag and drop gadget, and automatic security features, Roxio Secure Burn Enterprise is convenient for users with virtually no impact on their workflow.
Protection you can count on
Meet government and legal requirements for protecting confidential data with support for FIPS 140-2 compliance and powerful 256-bit AES encryption.
New Features:
Drag and drop burning and encryption
Simple drag and drop interface let users easily burn or save files to CDs, DVDs, Blu-ray Discs or USB drives. Adding and removing files, adding new folders and burning to multiple discs or encrypting to multiple USBs is easy and secure. Security protocols are applied and user is prompted if action is required.
New! Maximize storage space
Using the power of the award-winning WinZip engine, Roxio Secure Burn now lets you set controls to compress files when encrypting data to preserve space wherever files are stored, helping users store more files on discs and USB drives.
Enhanced! Hassle-free security
With IT-enabled security measures like read and write permissions, forced encryption and automatic passwords, Roxio Secure Burn Enterprise works in the background, adding a layer of security while remaining convenient and hassle-free for users.
Powerful encryption
Support for FIPS 140-2 certified encryption* and password protection lets your organization comply with government and industry security standards, and protect intellectual property and private customer information. Roxio Secure Burn Enterprise also secures files with powerful 256-bit AES encryption and supports the SHA-2 standard.
Fail-safe protection
Roxio Secure Burn Enterprise is an affordable way to add another layer of security to protect your organization's valuable data and information—one that extends to portable media. And because protocols are controlled by IT, your organization's security procedures cannot be bypassed or forgotten by users.
Enhanced! Flexible administrative tools & simplified network deployment
Easily introduce custom security protocols across your organization with tools that let IT set and change read and write permissions for groups and individuals at any time. Control whether discs are forced closed after burning, force encryption when data is burned, set password protocols and more. With software protocols easily rolled out and enforced by IT, your organization's security procedures cannot be bypassed or forgotten by users.
Easy monitoring
Enable logging to keep track of a variety of information, including date, computer name, user name, files and folders saved to removable media. You can access the logged information using Windows Event Viewer or by using a log server solution.
Minimum System Requirements:
- Microsoft® Windows® 7 SP1, 8, 8.1, 10 Ultimate, Professional, or Enterprise; 32-bit or 64-bit with latest service pack
- Windows Server 2008, 2012 R2 or 2016
- Hard drive with at least 150MB free space for installation
- Windows Media Player version 10, 11 or 12
- Internet Explorer 7, 8, 9, 10 or 11
Supported Removal Media:
- USB drives and storage devices
- SD memory card
- Discs : CD-R/RW, DVD-R/+R/-RW/+RW/+R DL/-R DL, DVD-RAM, BD-R/RE/-R DL, BD-R XL (100 and 128 GB), M-Disc DVD, M-Disc BD
- DVD and Blu-ray disc burners
Homepage
-
https://www.roxio.com