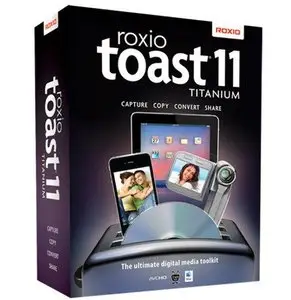 Roxio Toast Titanium 11.0.3 | Mac Os X | 79 MB
Toast Titanium goes way beyond the very basic burning in the Mac OS and iLife software, and sets the standard for burning CDs, DVDs, and now Blu-ray discs on the Mac. Create superior sounding audio CDs with smooth crossfades and transitions. Enjoy your TV shows anywhere with exclusive TiVoToGo and EyeTV burning. Convert and export video for an iPod, PSP, mobile phone, and more. Burn files of any size, and automatically catalog the contents of your discs. Copy your audio CDs, movies and DVDs. There is no easier or faster way to save, share, and enjoy your digital media on disc.
New Toast 10 Pro adds:
High-Def/Blu-ray Disc Plug-in
Sonicfire Pro soundtrack creation
SoundSoap audio noise reduction
FotoMagico high-def slideshows
LightZone visual photo editing
Requirements
PPC / Intel, Mac OS X 10.5 or later.
Version 11.0.3:
Resolves an issue where unexpected beahviour occurs when working with VIDEO_TS folders authored by a specific application
Resolves an issue where adding MKV video with MPEG-2 content may cause a crash
Only valid start and end times are accepted in the Edit Video window
Custom audio transition now accepts user specified duration correctly
Verification will now occur when copying when burning disc-to-disc
Resolves an issue where some High Definition DVD projects and Blu-ray projects may hang at 99% of completion
* Application Only!